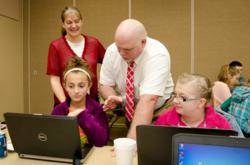 BOSS is an exciting competitive event that simulates real work decisions made by a CEO. The students respond well to the competition — Patti Passmore, high school Business teacher at St. Joe, Arkansas
Harrison, AR (PRWEB) March 01, 2013
Young entrepreneurs learn how to turn their dreams into reality through the Business Opportunities for Student Success (BOSS) competition. It's a tough competitive atmosphere that demands a lot of hard work and persistence and is based on real world concepts.
Our Educational Cooperative and North Arkansas College Business and Information Technology division welcomed six area schools for the spring BOSS competition. Alpena, Bruno-Pyatt, Harrison, Kingston, Valley Springs and Western Grove organized business simulation teams to teach Strategic Planning concepts to middle and high school students.
The management simulation gives a student or group of students an opportunity to compete with others worldwide for the successful operation of a business. A team will run a $40 million company for eight years or eight rounds. Participants will compete in the production of select products or services. In the beginning, all businesses are unfocused and perform poorly. It's up to the team to make the business succeed.
Patti Passmore, high school business teacher at St. Joe says "BOSS is an exciting competitive event that simulates real world decisions made by a CEO. The students respond well to the competition. It is fun and they feel ownership in the decisions they have made."
Northark Phi Beta Lambda (PBL) students assist in the training of high school teachers and students as a community service project. The college students compete against two and four-year institutions as well. This is the third year for the project and it has yielded exceptional recognition for PBL. Last year, the team won third place in the nation.
"Each year we're inspired by the hard work and talent the students demonstrates," said Tommy Flud, PBL advisor and business instructor. "I mean when you have a team who wins a top spot in the nation, what can you say? There are some bright students in this area who are going to shine when they become our future leaders in business and industry."
Northark PBL students will compete in the state competition at Little Rock this April. The winning team will advance to the nationals to be held in Anaheim, CA.
For more information about North Arkansas College, visit http://www.northark.edu.