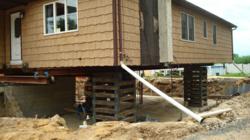 Perth Amboy, NJ (PRWEB) March 01, 2013
Quality 1st Basement Systems continues to help those affected by Hurricane Sandy through their work to have homes meet the new FEMA regulations and to elevate foundations.
As part of the 'Hurricane Sandy Relief Effort,' the entire team at Quality 1st has offered solutions for damaged, flooded basements and crawl spaces, sump pump back-up, and foundation repair. In particular, they have the expertise to repair severely damaged houses that can save homeowners from the costly alternatives of demolition and rebuilding.
Simply explained, raising a foundation involves lifting the house off its existing foundation and 'storing' it overhead. Then the Quality 1st team of professionals installs a helical or push pier system using hydraulic equipment that's designed to fit in tight spaces. The house is then lowered on its new, elevated foundation. Residents can return to their homes much sooner with pier systems than if rebuilding were done.
Trusted and reliable, Quality 1st has been in business since 1987 and has grown to become a one-stop source for basement waterproofing, foundation replacement and repair, crawl space repair, basement finishing, and concrete work. Quality 1st is a company that brings experience and is dedicated to improving the comfort and condition of each and every one of their clients' homes.
Quality 1st is a member of both Basement Systems, Inc. and Foundation Supportworks, Inc., both of which are leading contractor networks and innovators in their fields. All members are certified and receive on-going training in new products and technologies.