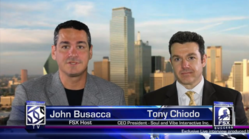 Dallas, TX (PRWEB) March 01, 2013
During the recent FSX Investment Conference held at Dallas, Texas, Soul and Vibe Interactive Inc. CEO and President, Tony Chiodo, granted an exclusive interview for InterlinkedTV, an on demand web channel dedicated to entrepreneurs and investors.
Soul and Vibe Interactive Inc. specializes in the creation of original intellectual properties and has extensive experience licensing world-renowned brands from influential companies. Through partnerships with technically sophisticated software developers located all over the world, Soul and Vibe transforms unique concepts into engaging, highly accessible, and affordable games and entertainment experiences.
Tony Chiodo has been in the video and computer games industry for 22 years with over 200 titles to his credit. During the exclusive interview Mr. Chiodo stated that Soul and Vibe has a license agreement with General Mills, and game development and publishing agreements for the Xbox 360® video game and entertainment system, Windows 8, Windows Live, and Windows Phone from Microsoft; and the PlayStation® 3 computer entertainment system and PlayStation® Vita (PS Vita) from Sony.
The full interview is available only at http://www.interlinkedtv.com/soul-and-vibe-interactive-inc/
If you would like to meet CEOs, BDs, and other Investors first hand, get Interlinked with FSX by simply registering for their next event. Some restrictions apply. Must be an accredited investor or be registered through FINRA to attend an event.
About InterlinkedTV
InterlinkedTV is an internet video production and distribution site dedicated to entrepreneurs and investors. We feature education, public and private companies, venture capital news, and investment events. This content is exclusive and cannot be found anywhere else. We give our members and viewers a unique chance to meet the CEOs and executives of high growth companies. For more information go to http://www.InterlinkedTV.com & http://www.Interlinked.com
About Soul and Vibe Interactive Inc.
Soul and Vibe Interactive Inc. is a publisher of games and games-related content for consoles, mobile devices, and personal computers addressing a $56 billion market projected to grow to $82 billion by 2015. For more information visit http://www.soulandvibe.com.