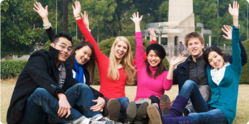 Degree Search Made Simple - Choose from 200 schools and more than 5000 degree courses
Iselin, New Jersey (PRWEB) March 07, 2013
Applying for college admission is a big decision and it is important to ensure that all students, whatever their backgrounds, have the opportunity to select the right degree for themselves. But students are often confused and uncertain about the course or degree they should choose.
The best and most sought after degrees are the most-employable ones. According to research conducted by http://www.SearchMyDegree.com, companies plan to hire Sales and IT graduates the most in 2013. These two fields are expected to show a healthy growth in jobs despite the slow economy. Other positions popular amongst employers include those from the fields of customer services, engineering and production.
http://www.SearchMyDegree.com is trying to help students looking to get enrolled this year. The website gives them the capability to search for university by course.
Despite the changing times, traditional degrees remain just as much in demand as the online ones. And the variety of options means that everyone can find a full-time, part-time or long-distance degree in a field of their choice. The website, http://www.SearchMyDegree.com, is just another positive effort to provide complete educational freedom to our next generation. It was established to provide students with the ability to search and compare information on more than 200 schools currently listed on the website. Prospective students have the ability to select from more than 5000 courses presently offered by these schools.
According to the figures presented by the National Centre for Education Statistics, nearly 171,000 new jobs were added by US employers this past October. It is estimated that the figures will be even higher in 2013. Now seems to be the best time to get higher degrees that can help secure future. And getting their education online seems to be the preferred method for people already in jobs. So whether a person wants to study medicine or architecture in school, they need a quick and easy solution for finding the right educational prospects.
Online degree searching facilities provided by http://www.SearchMyDegree.com and similar sites are filling a major gap in the education industry. These services are perfect for employed or otherwise engaged people who want to pursue further education but don't have the time to go campus hopping to find their perfect degrees. Visitors to http://www.SearchMyDegree.com said that they preferred earning their degrees online because of the flexibility to take day and night classes, lower costs as compared to in-class courses and also because they can access their university from any location in the world without letting their whereabouts hinder the chances of earning a degree.
As per Center of American Progress published article "The Student Debt Crisis" show that, graduates who take out loans leave college with an average debt of more than $25,000. Also, the cost of college degree education has increased by more than 1000 percent in last 3 decades.
A spokesperson for the website said that, "We just wanted to ensure that anyone who wants to apply for college education has the important facts available for them to help make the right choice for them. The introduction of our website presents a huge step forward for students, parents as well as their school and college advisers."
Many think of higher education as their ticket to success as it offers opportunities that are often denied to those who do not have degrees. It is also, many times, an exceedingly costly venture that many students and families must save and borrow in order to pay for. Nevertheless, when it comes to the returns on that investment, many find that their degrees have made them extremely employable.
According to the website's spokesperson, "When it comes to higher learning, too many students and families are following the crowd and selecting the degrees that everyone suggests will prove to be most profitable in the long run. We want to provide them an opportunity to find out how to do study what their heart desires."
These days, courses in fashion designing and accounting are all the rage. But many are also opting for computer network careers. Computer technology courses and animation classes are also proving to be immensely popular.
About two-thirds of all American institutions now offer online courses or merged education opportunities.
About http://www.SearchMyDegree.com
http://www.SearchMyDegree.com is your ultimate, one-stop source for anything and everything related to degrees, schools and scholarships in the United States. We make every effort to bring you straightforward and trustworthy educational information that can be fully utilized to make the best decision while searching for prospective online schools or degrees.