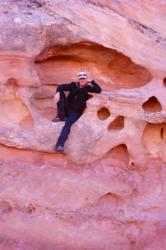 Sedona, AZ (PRWEB) March 01, 2013
The Four Corners region includes 8 national parks, 10 national monuments, and a national recreation area. To hike and explore the Southwest canyon country is to experience a world unlike any other. Award winning author Brian Lane puts over 20 years of experience hiking throughout this area to good use, detailing for travelers day hikes and backpacking trips, permits and logistics, safety and proper gear, wildlife and geology, and contact information for local services.
This eminently useful guidebook includes detailed maps and trailhead directions, as well as beautiful color photographs that are sure to kindle in readers the desire to come see this beautiful place for themselves. The author's new book is set to be released on April 8, 2013.
Brian J. Lane is a member of the Outdoor Writers Association of America, the American Hiking Society, and a Life Member of the Sierra Club. He is also a NOLS/WMI certified Wilderness First Responder. In 2001 he was awarded a Photographer's Forum Award of Excellence. Lane lives with his wife in Sedona, AZ. For more information and a blog with up-to-date canyon hiking conditions, visit the author's website at: http://www.aSenseofNature.com.
Media Contact: Brian J. Lane
Email: info(at)aSenseofNature(dot)com
Phone: (928) 282-9525