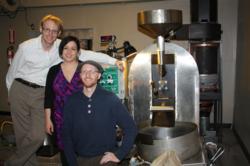 Solar Roast Coffee has all the best ingredients of a brand you want to invest in - Don Carpenter
Pueblo, Colorado (PRWEB) March 07, 2013
Helios, the sun god, decorates a classic corner building in a rejuvenated area of downtown Pueblo, Colorado. From here a trio of clever entrepreneurs have capitalized on their proprietary energy-efficient coffee roasting technique called Solar Aroma Roasting and built a thriving coffee cafe format.
Over the last 9 years, brothers Mike and Dave Hartkop steadfastly pursued their vision of using solar energy to produce better coffee. One taste of any of their Solar Roast Coffee selections and you'll quickly understand why they've become a destination-of-choice for Pueblo's coffee and food lovers. March 6 marked their sixth year in the retail coffee business. When you study their business model you also quickly realize why many business experts say this team of entrepreneurs may have created the next great franchise.
As Mike and Dave developed their unique coffee roasting technique, they noted a shift in the public consciousness. Customers of all ages and persuasions were looking for healthier options in their chosen places to eat, drink and hang out, including:
Healthier foods - gluten-free, low-salt, lactose free, etc.
Shops that use local and organic sources for fresher ingredients
Everything homemade and prepared fresh
Sustainable practices - from compostable bamboo plates to recyclable boxes
Most important - Uniquely Superior Solar-Roasted Coffee - smoother and no aftertaste
Energy-efficient business style
What kept Mike and Dave driving the process forward was the unmistakeable fact that coffee brewed from their unique roasting technique created unusually smooth, flavorful coffee with none of that typical burnt coffee aftertaste or bitterness. For anyone that enjoys coffee, the difference is evident right from the first sip. They knew they had a winner with Solar Aroma Roasted coffee.
The formula for success entails real dedication to the every day quality of the coffee and food they serve - and how they serve it. For example: they use authentic, trained and certified Solar Roast coffee baristas, using skillful extraction methods instead of fully automated machines. Then they pair their great coffee with hand-crafted, health-conscious food selections that are prepared with fresh local ingredients.
Here are some of the mouth-watering selections from their menu that are among their top sellers:
Solar Salad - Organic mixed greens, Organic pears, Organic carrot ribbons, red onion, Amish blue cheese, raw almond slices and dried blueberries. Served with house-made balsamic vinaigrette.
 

Parfait - Low-fat Greek yogurt, regionally made Gluten-free Granola, Colorado honey, Organic banana slices and Strawberries(Organic and/or all-natural whenever possible).
 
Gluten-free Veggie Sandwich - Open-faced Gluten-free bagel topped with house-made hummus, Organic greens, bell peppers, avocado, tomato(Organic and/or local whenever possible), cucumber, red onion and salt-free seasoning.
Fruit Granitas - a frozen, blended beverage with whipped cream on top
For Master Roaster Mike Hartkop, success has also come from selecting the finest "organic certified" single origin coffee beans from different regions all over the world. Then using their patent-pending Solar Aroma Roasting technique in Artisan batches so the flavors are preserved and presented with their unique flavor profiles intact. If it sounds like a lot of work - it is. But thats why their list of dedicated customers grows larger every week..
According to Master Roaster Mike, "We pride ourselves in creating unique blends and selecting unique single origin beans. The high quality of our coffee and blends, coupled with our proprietary Solar Aroma Roasting technique enables me to create truly remarkable and exotic flavors not available anywhere else. And it's always smooth, not bitter or burnt tasting."
The national franchise program for Solar Roast Coffee launched on January 9, 2013, when they unveiled their plans and solar-powered business opportunity to franchise brokers around the country. The intriguing story behind Solar Roast Coffee captivates people every time it's told. Solar Roast business opportunities have been rolled out to brokers and prospective franchisees throughout North America ! Solar Roast Coffee has joined forces with Colorado Franchise Group to develop their franchise brand and be a catalyst for franchise sales and success.
Colorado Franchise Group sales director Don Carpenter is excited about the business opportunities ahead for Solar Roast because of these key attributes:
Patent-pending green technology (Solar Aroma Roasting)
Superb quality of their coffee and food
The healthy growth of the specialty coffee sector overall (up 20% in 2102)
The fact that this is a turnkey opportunity
According to Carpenter, "Solar Roast Coffee has all the best ingredients of a brand you want to invest in: the store footprint and floor plan flexibility with or without drive-through allows Solar Roast Coffee placements ranging from strip mall locations to free standing buildings. We have special military financing, 401k conversions and other creative financing programs for people that would like to control their destiny and own their own green technology business." The franchise options are for master territories as well as individual locations nationwide. The franchise sales office for Solar Roast Coffee can be contacted at (303) 515-7178.
For information about Solar Roast Coffee and franchising:
Solar Roast Franchise sales team: Don Carpenter, Richard Hanson
Tel: direct: 303-515-7178, toll-free: 888-383-2721
e-mail: solarroastcoffee(at)cofranchisegroup(dot)com
Solar Roast media contact for information and materials:
Richard Hanson 303-912-9977