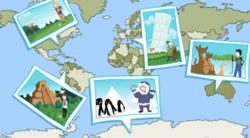 What I like about it is that is now much easier to keep track of my golf buddies scores.
Miami, FL (PRWEB) March 07, 2013
The golf handicap tracker industry is reactivating on the northern hemisphere of the world. With that a high percentage of golfers will be looking for a way to track and calculate a golf handicap. TheGrint is looking to capitalize on that opportunity by offering a hard to refuse referral incentive.
Starting March 1st, if any existing member of TheGrint gets three of his/her friends to join, they will automatically receive a one year subscription to a Blue Scorecard Picture Membership. With that members will be able to take a picture of their scorecard at the end of their golf round, then upload it send it to TheGrint and the score will be uploaded into their own profile. This is a $40 value.
In order to get credit for the referral, the newcomer will have to indicate who referred him by simply writing the name of the referrer on the register form. As soon as the 3rd person register, the referrer will automatically get a one year Blue membership subscription.
Up to this date, 80 percent of new registers on TheGrint platform have come through mouth to mouth, and TheGrint plans to provide even more incentives to continue to foster this behavior. It is already a great value for golfers to have their friends join because they can keep track of each other and compete. However, with this incentive it becomes a difficult offer to resist.