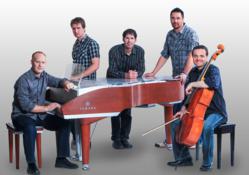 Modesto, CA (PRWEB) March 12, 2013
The Piano Guys, an internet sensation with millions of followers on You Tube and Facebook, has been added to the schedule at the Gallo Center for the Arts. The group will perform at 8 pm on Saturday, June 15.
Tickets for the event range in price from $19 to $64, and can be purchased online at GalloArts.org, by phone at (209) 338-2100, or at the Gallo Center ticket office, 1000 I Street in downtown Modesto. Organized groups of 15 or more people receive a 15% discount on their tickets. Group sales information is available by calling (209) 338-5062.
The Piano Guys are known for their mash-ups of classical and pop music, creating sophisticated new arrangements of everything from Beethoven's "5th Symphony" to Coldplay's "Paradise." Weaving seemingly disparate pieces together to create something totally new, the group's other sources range from Michael Jackson to Mozart, "The Bourne Identity" to David Guetta.
Only two members of the The Piano Guys are musicians, pianist Jon Schmidt and cellist Steven Sharp Nelson. The other three members, group founder Paul Anderson, Tel Stewart and Al van der Beek, fill various roles, including the creation of a series of strikingly original videos that have captured a worldwide following. Since forming over a year ago, The Piano Guys have shot 35 videos in locations ranging from a Utah mountain top to the beaches of Hawaii.
The videos have so far netted tens of millions of YouTube views, with 500,000 new views per day. More than 350,000 people have subscribed to the group's You Tube channel, and more than 450,000 have liked The Piano Guys on Facebook.
"Lots of parents are using our music to show their kids how fun classical music can be and motivate them to learn instruments," says Schmidt. The Piano Guys' cover song mash-ups, adds Nelson, have become "a great way to introduce ourselves and make an instant connection with our audience as a classic spin on new stuff - and a new spin on classic stuff."
The Gallo Center's 2012-2013 Premier Partner is Boyett Petroleum.