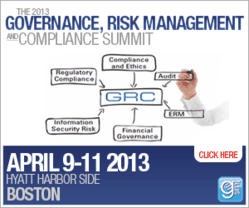 On April 9th, Michael will lead the interactive workshop on "Keeping Pace: Regulatory Change Management," addressing the need for a defined regulatory change management process to assimilate the intake of relevant information
San Diego, CA (PRWEB) March 04, 2013
The GRC Summit is excited to announce that Michael Rasmussen J.D., OCEG Fellow, CCEP, GRCP, CISSP, Chief GRC Pundit, GRC 20/20 Research, LLC will be leading a pre-summit workshop at The GRC Summit Boston this April 9-11th.
On April 9th, Michael will lead the interactive workshop on "Keeping Pace: Regulatory Change Management," addressing the need for a defined regulatory change management process to assimilate the intake of relevant information, track accountability on who needs to perform what actions, model the potential impact on the organization, establish priorities, and determine if the organization's policies, procedures, and controls need to be adjusted to address the change. This workshop enables the attendee to build a regulatory intelligence strategy and process that monitors regulatory change, measures impact on the business, while implementing appropriate policy, training, and control updates.
Workshop objectives include (1) develop a regulatory taxonomy/framework indexed to your organizations enterprise risk taxonomy, (2) conduct a business impact analysis to understand regulatory change impact on your business, (3) map regulations to policies so that you know what policies to review when regulations change, (4) revise communication and training programs to keep them current with regulatory change, (5) monitor and audit action plans to ensure that changes to regulations are driven into the controls of the business.
In its 5th year, GRC Boston offers 4 distinct session tracks: (1) Financial Risk & Compliance, (2) IT GRC, Privacy & Security, (3) Compliance & Ethics and (4) Enterprise Risk Management (ERM). With four pre-conference workshops and nearly 25 learning sessions, the three-day summit covers numerous GRC topics.
The Summit will be held at the Hyatt Harborside Hotel, in Boston, MA on April 9-11, 2013. For more information please visit http://www.thegrcsummit.com. Early bird discounts available before March 8th. Group discounts are available. Space is limited for the pre-summit workshops - register today to reserve your spot.
About Global Strategic Management Institute:
GSMI is a leader in the industry of executive education, creating conferences, summits, workshops and training sessions that combine rich learning environments with the opportunity to network with today's most relevant thought leaders, speakers and practitioners. GSMI's annual events have reached 70% of the Fortune 500 companies, in over 30 countries, covering topics that today's leaders find most challenging and inspiring. More information about Global Strategic Management Institute's upcoming educational events for professionals, visit: http://www.gsmiweb.com.
#GRCSummit
Follow us: @GSMIonline
1-888-409-4418