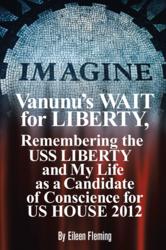 ORLANDO, Fla. (PRWEB) March 01, 2013
When the country is $15 trillion in debt, Eileen Fleming asks: is it wise to continue sending over 3.1 billion tax payer dollars annually to support Israel's military, when Israel's gross national product (GNP) is higher than the combined GNP of Egypt, Lebanon, Syria, Jordan and the West Bank and Gaza?
In Fleming's new book, Vanunu's WAIT for Liberty, the reader follows a patriotic American fighting for the promises she grew up on. This collection of Fleming's investigations educates, entertains and calls for a change in foreign policies that endanger this homeland.
Intertwining the continuing persecution of Mordechai Vanunu (the 1986 Israeli nuclear whistle blower), with interviews from 1967 USS Liberty survivors, this book exposes how US policies, bad religion and a media who have failed at their commission to seek and report the truth; have helped fuel conflicts that threaten to engulf the world in war.
"I had NO interest in politics until September 11, 2001. It was THAT DAY, entwined with my spiritual search, that compelled me to research and impelled me to sojourn seven times to both sides of The Wall in Israel Palestine," says Fleming. "In 2005, while in east Jerusalem, researching for my first book (a historical fiction), I met Vanunu who had been released from 18 years in jail the year before, but under restrictions not to leave the state and not to speak to foreigners - meaning media! We began a series of interviews that inspired me to establish an Internet newspaper and public service http://www.WeAreWideAwake.org and then to run for Congress in the newly gerrymandered District 5 in Florida."
Vanunu's WAIT for Liberty: Remembering the USS LIBERTY and MY Life as a Candidate of Conscience for the US HOUSE 2012
By Eileen Fleming
ISBN: 978-1-4669-7055-7
Pages: 106
Price: $11.79
Available at http://www.trafford.com, http://www.amazon.com, and http://www.barnesandnoble.com
About the author
Eileen Fleming is also the author of KEEP HOPE ALIVE, MEMOIRS of a Nice Irish-American 'Girl's' Life in Occupied Territory, Vanunu's FREEDOM of SPEECH Trial and My Life as a Muckraker 2005-2010 and is now writing FAMILY MATTERS and THAT'S LIFE. She is the founder of WeAreWideAwake.org and currently lives with her husband in Florida.
# # #