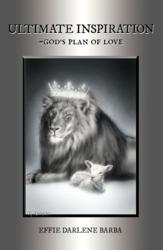 Orlando, FL (PRWEB) March 01, 2013
Why do we exist?
A mother, widow, grandmother and nurse practitioner who has overcome great illness and financial disaster, explains human purpose in this world of chaos in her new book.
In "Ultimate Inspiration", Effie Darlene Barba delivers a concise, yet complete guide in understanding the Lord's salvation and Christian doctrine. The book weaves knowledge from some of the greatest Christian preachers with Barba's own research of other faiths and philosophies to prove who is the true Redeemer.
Explaining the joy, love and hope of God in a world filled with chaos, Barba defends and explains all questions of existence, the Trinity and ones growth in Christianity.
"I was inspired to write this book because God has always provided me with strength and hope to always move forward, even if at times when it was barely one foot in front of the other," says Barba. "I want people to find the same kind of trust in the Lord as I have."
Ultimate Inspiration – God's plan of love
By Effie Darlene Barba
ISBN: 978-1-4772-0591-4
Pages: 97
Price: $14.95
Available at http://www.authorhouse.com, http://www.amazon.com, and http://www.barnesandnobles.com
About the author
Effie Darlene Barba has published two other Christian books: A Broken and Contrite Heart and Mountaintop Experiences in the Valley. She currently is a Nurse Practitioner and lives in Casselberry, Fla.
# # #