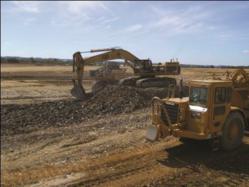 The economic impact the industrial park will have on the county is amazing.
Skippack, PA (PRWEB) March 01, 2013
A massive industrial park project that has been in the works for several years is finally underway, and Bernville, PA-based Landis C. Deck & Sons Site Contractors (LCD), an H&K Group company, is at the helm of the action.
Berks Park 78, as it is named, is a county-owned, expansive 323-acre property located in Bethel, Berks County, PA, just off of Route I-78 and Route 501. It was purchased years ago by the Berks County Industrial Development Authority (BCIDA) with the intent of developing an industrial park. LCD initially got involved in 2008 when they prepared preliminary budgets for the project. Their keen insight of being there at just the right time would eventually lead to several other projects within this project, and work for other H&K Group companies as well.
Over the years the project slowly made headway, and eventually in the summer of 2010, LCD bid and was awarded a small project of clearing and development for groundbreaking at the site. Next, Phase 1 of the project was put up for public bid, which included the initial mile of main road into the park, basic stormwater controls, and sanitary, water, and utility lines for the park. Simultaneously, a separate contract bid for PennDOT highway improvements on Route 501 outside of the park for road widening was up for grabs. Once again, LCD was successful in winning both bids and completed the work in the summer of 2011.
Phase 2 of the project was open for public bid in Spring 2012, and again LCD came out on top and was awarded the work. This phase involved the remainder of roadway improvements and full construction of Martha Drive (the main road through the park), offsite highway work on Route 501 in Rehrersburg, and the installation of two traffic signals, improvements on Brown Road, the abandonment of Airport Road, installation of a pump station, and sewer lines into the sewer main. Blooming Glen Contractors Water & Wastewater Division(another H&K Group company based in Blooming Glen, PA) recently completed the pump station, and the rest of the work is slated to be complete in the spring of 2013.
As LCD's competitiveness, knowledge and performance became apparent to many players involved in the Park's development, they were invited to bid in the summer of 2012 among five other contractors on the first site to be cleared for building. LCD once again won the competitive bid, which was for the park's first corporate occupant, Dollar General, which is located on Lot 2 of the park. In order to prepare the site, this large mass-grading project required the movement of 785,000 CY of dirt and topsoil, which will house a 950,000 SF warehouse.
In late summer of 2012, Blue Rock Construction, Inc. of Allentown, PA (who happened to be the Construction Manager for the BCIDA development) awarded LCD a complete site package for PetSmart's Atlantic Distribution Center, which will be built on Lot 1. The site package included E&S clearing, earthwork, utilities, asphalt, concrete and paving. Other aspects of this package that benefit The H&K Group is a 5,000 SF retaining wall that will be constructed by Terra Structures(and H&K Company based in Skippack, PA), and H&K Group affiliate Rahns Concrete will be setting up an on-site batch plant. The excavating work will eventually make way for an 870,000 SF warehouse. Some quantities for this large project include moving 500,000 CY of topsoil and fill, 12,000 LF of storm sewer, 7,000 LF of water line, 3,400 LF of sanitary sewer, 17,000 SY of asphalt and paving for parking lots, 71,000 SY of stone and concrete pave and 11,000 LF of curb.
Finally, and most recently, Blooming Glen Contractors(BGC), an H&K Group Company, was awarded a Potable Water Project within the park complex by the Reading Area Water Authority. LCD performed the excavation work while BGC performed the mechanical work.
In order to perform the work, LCD relied on The H&K Group's massive fleet of earthmoving equipment. The arsenal consisted of CAT 385, 375, and 365 excavators, four 773 CAT Rock Trucks, three 740 CAT Rock Trucks, seven CAT 627 Scrapers, three CAT 637 Scrapers, and nine D6-D10 Bulldozers. To meet their compaction needs, they utilized three CAT 815 Compactors, six CAT 563 Vibratory and Sheepsfoot Rollers, and three pipe crews consisting of three CAT 330 Trackhoes and four CAT 963 Loaders.
Berks Park 78 is not only an exciting project for The H&K Group, but for the surrounding community and the Commonwealth of Pennsylvania as well. The site is ideal because it's within one long day's ride of 60% of the eastern United States. The commerce that it will bring, as well as the projected 1,100 jobs that will be created is a major boost for PA's economy. Governor Tom Corbett visited the site on Friday, October 12, 2012, to take part in a groundbreaking ceremony, and stated, "This is about growing the economy in Pennsylvania," he said, which is likely to continue seeing growth because it has improved the business climate, has a workforce readily available and a decreasing cost of power. BCIDA Executive Director, Thomas C. McKeon, also added that, "the economic impact the industrial park will have on the county is amazing."
Completion of both the Dollar General and PetSmart projects are estimated for the summer of 2013.
The H&K Group and The H&K Group Family of Companies provide site contracting and construction services, construction materials including crushed stone, asphalt and ready-mix concrete, and associated architectural stone and manufactured hardscape and retaining wall products and services through over 80 operations in four states including eastern Pennsylvania, New Jersey, Maryland and Delaware. For more information, call 610-584-8500 or visit http://www.hkgroup.com.