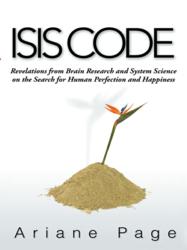 My research shows how a restricted point of view is blocking humanity's evolution towards peace, health and happiness
MONTREAL (PRWEB) March 01, 2013
The ancient Egyptian legend of Osiris depicts how the god was murdered and dismembered by his own brother. This led Isis, his widow, to embark on an arduous journey to find and rejoin the pieces of her beloved.
In Isis Code, author and creator of the LIFE biosystem approach, Ariane Page, shows how humankind's quest for true love is a mirror of Isis's search. Page takes the reader on a pilgrimage as the inner Isis attempts to join the five different aspects of the human brain - physical, emotional, symbolic, rational and social - and eventually find the answers to the questions: what, why, how, and who we are.
Decoding a unique holistic point of view, hailed from most ancient traditions (Egyptian, Chinese, Indian, Jewish), Page aims to help the reader reach happiness by bringing awareness to their potential of thinking differently. Through research, stories, illustrations and diagrams, Isis Code demonstrates how the LIFE biosystem, systems science and results of brain research, harmoniously help the reader understand human structure and needs.
"My research shows how a restricted point of view is blocking humanity's evolution towards peace, health and happiness," says Page. "It is important that humans tap into every dimension of their brain so politics, economics and humanity can evolve."
Isis Code: Revelations from brain research and systems science on the search for human perfection and happiness
By Ariane Page
ISBN: (SC) 978-1-4759-6746-3 (HC) 978-1-4759-6747-0 (E) 978-1-4759-6748-7
Pages: 620 with 10 illustrations and 30 diagrams
Price: (HC) $36.95, (SC) $46.95, (E) $18.00
Available at http://www.iuniverse.com, http://www.amazon.com, http://www.abebooks.com http://www.chapters.indigo.ca and http://www.barnesandnoble.com
About the author
Ariane Page, a former assistant director for CBC TV, is a hygienist-naturopath and long time manager of a natural healthcare clinic. She is the creator and counsellor in LIFE biosystem's general and individual applications and currently lives in Montreal.
# # #