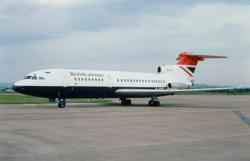 Trimite products have been used on both civilian and military aircraft for many years and we look forward to seeing G-ARPO back to its former glory and on display
(PRWEB UK) 1 March 2013
Trimite Technologies Limited, part of Trimite Global Coatings, is helping with the restoration work on the only complete Hawker Siddeley HS121 Trident 1C aircraft left in the world. This historic and iconic aircraft is currently undergoing complete repair and restoration by a team of specialists prior to being put on display at the North East Aircraft Museum in Sunderland.
The aircraft, call sign G-ARPO, was built in Hatfield, Hertfordshire and first flew in January 1965. It was part of the BEA and British Airways fleets until its final service flight from Glasgow to Heathrow in March 1983. After spending time in storage, the Trident was used for evacuation and smoke training, before being donated to the Trident enthusiasts who are now undertaking a complete restoration.
Trimite Technologies stepped in to provide specialist cleaning and chromating products together with technical advice and support for the project.
Group Marketing Manager Malcolm Clark commented: "We are delighted to be part of the restoration of such a fascinating and important aircraft. Our products have been used on both civilian and military aircraft for many years and we look forward to seeing G-ARPO back to its former glory and on display to the public."
Trimite Technologies serves the industrial metal processing industries. The companies paint and polymer bonding materials enhance the performance of hot and cold rolled steel, extruded profiles, light metal castings and galvanised materials with iron, zinc and multi-metal phosphate conversion coatings.
Approved chromate and chrome free pre-treatments are available from Trimite Technologies for aluminium sheet, extrusion, castings and light metal alloys such as
Mazac.
END
About Trimite Global Coatings
Trimite Global Coatings is one of the world's leading coatings businesses, supplying global customers from manufacturing facilities in the UK, Ireland, USA, Brazil, India, China, Indonesia, Germany and Hungary with a comprehensive range which spans pre-treatment products as well as powder and liquid paint coatings.
For media enquiries, please contact Ranbir Sahota, http://www.vitispr.com