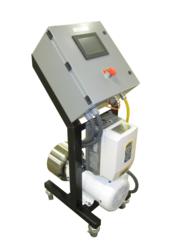 "We've worked hard and done extensive engineering to deliver a more affordable lab device that still maintains tremendous power and versatility our customers expect from the SPR." -Doug Mancosky, Vice President of Research and Development
Rome, GA (PRWEB) March 01, 2013
Hydro Dynamics, Inc. (HDI) (http://www.hydrodynamics.com), is launching a new and more economical lab and pilot plant version of its ShockWave Power Reactor (SPR).
Harnessing the power of cavitation, the ShockWave Power Reactor excels at scale-free heating, mass transfer, process intensification and extraction in applications such as biofuels, chemicals and petroleum. The new lab SPR should allow companies to have an SPR as a permanent tool in their lab or pilot plant to test current and new processes.
Features of this new unit include:

Stainless Steel 8"x2" SPR
Throughput: 0.25-5 gpm or 1-20 L/min
7.5 Hp TEFC motor and VFD (460 VAC, 3600 RPM)
Type 21 seal and viton elastomers
Operations manual on CD
1 year warranty
"We've worked hard and done extensive engineering to deliver a more affordable lab device that still maintains tremendous power and versatility our customers expect from the SPR," according to Doug Mancosky, Vice President of Research and Development at HDI. This new version of the SPR is available for immediate purchase and the base model starts at below $30,000.00 USD. It can be customized to include options such as an LCD touch screen control panel or XP motor.
About Hydro Dynamics
Hydro Dynamics is the developer of a patented process intensification technology enabling customers to solve critical mixing and heating problems. Reactors are operating on four continents in applications ranging from increasing biofuel production yields to more efficient mixing of chemical substrates. The ShockWave Power Reactor allows customers to significantly decrease operational and capital costs and increase profits while reducing the environmental impact of many processes. Learn more at http://www.hydrodynamics.com.