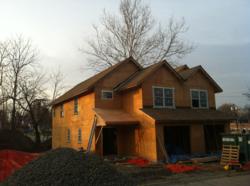 We are proud to be on the Planet Green Recycle Team and to be able to eliminate some of the waste that would have gone straight to the landfill.
Chatsworth, CA (PRWEB) March 19, 2013
Planet Green Recycle featured Habitat for Humanity of Bergen County for the February edition of their Organization Spotlight blog series. Planet Green looks thoroughly for Spotlight candidates that participate in their organization who can really represent the Planet Green Recycle program in numerous ways.
Habitat for Humanity of Bergen County was an obvious choice to feature due to their amazing current projects, New Year's Resolutions and extensive fundraising efforts. Habitat Bergen is currently occupied with a LEED-Certified (Leadership in Energy and Environmental Design) project where the houses being built will all meet the requirements when it comes to energy efficiency, water conservation, indoor environmental quality and more.
Habitat for Humanity of Bergen County is utilizing the Planet Green Fundraising Program in numerous ways. The biggest thing they are doing is trying to get the whole community involved. They have been reaching out to local schools, companies and individuals to join their effort because they realize that the more people involved, means the more waste kept from the landfills and the more money raised toward their cause.
Habitat Bergen raises awareness about their Planet Green Recycle program through multiple mediums- such as regular email blasts to their supporters, social media announcements, press releases and even media placements in local newspapers.
Click here to read the full interview with the Habitat Bergen Executive Director
###
About: Planet Green is the global leader of quality re-manufactured inkjet cartridges and e-waste recycling fundraising programs. Since its inception in 2,000, quality has been and continues to be the focal point of Planet Green's operation. The e-waste recycle fundraising program has helped thousands of charitable organizations raise over $40,000,000 and has kept thousands of tons of e-waste out of landfills.