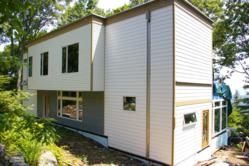 Norwalk, CT (PRWEB) March 01, 2013
Steven Winter Associates, Inc. (SWA) is pleased to announce a first place win for the Gainfort-McKay home, situated above Candlewood Lake in New Fairfield, CT, a home designed and constructed with sustainability in mind for the CT Zero Energy Challenge. For the third year in a row, the annual challenge has stimulated the creation and utilization of innovative technological solutions and techniques to promote the building of environmentally friendly homes that can be replicated across the country.
In 2012, eight participants accepted the CT Zero Energy Challenge, sponsored by Energize Connecticut (formerly known as CT Energy Efficiency Fund), to build residences with a near-zero net level of energy consumption. These super high-efficiency homes produce as much energy on site as they consume from the electrical grid. For the 2012 challenge, SWA teamed with three of the eight participating teams, to provide energy modeling, construction support and third-party verification.
The competition was judged across four categories: lowest HERS Index, lowest HERS Index without renewables, lowest net cost and lowest annual net operating cost, awarding cash prizes for individual and overall wins. The Gainfort-McKay home, designed by the owners and constructed by Mike Trolle of BPC Green Builders, has recently been awarded the first place prize within the category of lowest HERS Index without renewables. The HERS Index provides a scale for measuring a building's energy efficiency with a lower number indicating a larger reduction in overall energy use. The Gainfort-McKay HERS Index is 34, 66% lower than a reference home which is based on the same design as built to the current building code.
After sustainably deconstructing the 60-year-old house that originally rested on the hillside lot overlooking Candlewood Lake, the new Gainfort-McKay three-bedroom home has earned ENERGY STAR® certification, the EPA's Indoor airPLUS label, and is anticipating LEED® for Homes™ Platinum certification. With superb insulation, reduced air infiltration, rainwater harvesting, enhanced indoor air quality, reclaimed and low VOC materials, the home operates with very little impact on the environment.
SWA helped lead another home to a second place win in the lowest HERS index category with a HERS index of only 20. The "Performance House," built by Peter Fusaro in Old Greenwich, CT, also earned LEED for Homes Platinum, NGBS Emerald, WaterSense, Indoor airPLUS, and the ENERGY STAR label. SWA has worked with several previous winners including the Schaller Home in New Hartford and the Kantor Residence in New Canaan and will partner with Brookside Development in Derby for the 2013 CT Zero Energy Challenge.
About Steven Winter Associates, Inc.
Steven Winter Associates, Inc. provides research, consulting and advisory services to improve commercial, residential and multifamily built environments for private and public sector clients. The company specializes in energy, sustainability and accessibility consulting as well as certification, research & development and compliance services. Its engineers and architects have led the way since 1972 in the development of best practices to achieve high performance buildings. As a matter of course, the company's staff collaborates with its clients to produce the most cost-effective and innovative solutions. For more information, visit http://www.swinter.com.