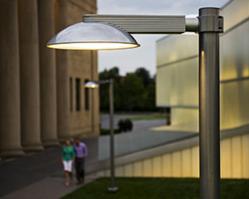 Landscape Forms has made a significant mark on the design quality and performance characteristics of energy-saving lighting for outdoor environments.
Kalamazoo, MI (PRWEB) March 01, 2013
Landscape Forms is proud to announce that LEO, the company's most efficient LED light, has won a 2012 Next Generation Lighting (NGL) Design Competition award. LEO won a "Recognized" award in the streetscape lighting category. It was one of just 37 lighting products out of 176 submissions to pick up an award at the annual Strategies in Light Conference, held in February in Santa Clara, CA. The LEO luminaire was designed by John Rizzi and engineered by Landscape Forms lighting engineers.
The NGL solid-state lighting competition was created in 2008 to recognize and promote excellence in the design of energy-efficient LED commercial lighting luminaires. It is a joint initiative of the International Association of Lighting Designers (IALD), the Illuminating Engineering Society (IES) and the US Department of Energy (DOE). The NGL competition entries were judged by a panel of distinguished academics and industry professionals. Lights were subject to hands-on examination, documentation review and on-site installation and testing at the Virginia Technology Transportation Institute (VTTI.) They were evaluated against seven criteria: color quality, appropriate illuminance, light distribution, glare control, aesthetic appearance and style, serviceability and replacement, and value. LEO received special appreciation from the judges for its light distribution and glare control.
Landscape Forms has made a significant mark on the design quality and performance characteristics of energy-saving lighting for outdoor environments. LEO is the second Landscape Forms product to win an NGL award. Lo-Glo, part of the Metro40 collection, earned a "Notable" award in 2009. The company continues its innovation in LED lighting and salutes John Rizzi and the Landscape Forms engineering team for LEO's 2012 NGL award.
About Landscape Forms
Landscape Forms is the industry's premier global brand of outdoor furniture, LED lighting and accessories.
Since its founding in 1969 Landscape Forms has earned a reputation for excellent design, high quality products and exceptional service. The Landscape Forms U.S. headquarters and manufacturing facility is located in Kalamazoo, Michigan with sales offices throughout North America, the United Kingdom, Southern Europe, the United Arab Emirates and Asia. Landscape Forms collaborates with renowned industrial designers and consultancies, landscape architects, and architects to design and develop integrated collections of products that address emerging needs and help create a sense of place. And it has global marketing partnerships with select companies that share its commitment to design. The company has an installed based of products around the world. Clients include municipalities, transit centers, corporate, college and health care campuses; and familiar brand leaders such as Boeing, Cisco Systems, Disney, Sprint, American Airlines, Herman Miller and Nike. Landscape Forms was recently named by the Wall Street Journal as one of the Top 15 Small Workplaces in the US.