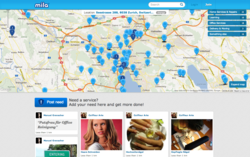 "We are pleased to have led the investment in Mila — whom we believe, given their heritage in creating and growing successful mobile platforms — are well placed to help reshape the very way local business is conducted amongst neighbours."
Zurich, Switzerland (PRWEB UK) 18 March 2013
Today Mila, the location-based, mobile community marketplace for tasks and errands, is announcing it has raised 3 million Swiss Francs (£2.13 million GBP / $3.22 million USD) from a consortium of private Swiss and German technology investors, including Peter Zencke and Adrian Bult, who see Mila as the next big opportunity in the collaborative working and sharing economy.
"We believe that there should be an easy, convenient way for friendly people in their local communities to help each other get more done. With Mila, you can now connect with people around you offering services, or you can earn extra cash by offering your own services or time to those in your neighborhood," says Mila CEO Manuel Grenacher.
Peter Zencke, long-time executive board member of multinational enterprise software firm SAP and German technology investor, says: "The sharing economy is a powerful trend that will revolutionize community commerce. We are pleased to have led the investment in Mila, whom we believe, given their heritage in creating and growing successful mobile platforms, are well placed to help reshape the very way local business is conducted amongst neighbours. Mila's strong growth and enthusiastic uptake by both local buyers and sellers shows the massive potential of the peer-to-peer economy."
Mila helps busy people get more of their daily tasks and errands done by allowing them to request help from people in their local neighbourhoods with a few taps of their smartphone.
When a person posts a request for a service or for a task to be accomplished to Mila – for example, to build a flat-packed bed, to help clear an overgrown garden, or to install a wireless network at home – local businesses and people can offer to provide or fulfill it. Mila provides a convenient place for the transaction to take place and payments are made safely through Paypal.
Mila is currently available around the world and in particular Germany, Switzerland, Indonesia and China. The Mila apps for iOS and Android will be available at the end of March. The company will use its funding to continue to expand the platform and business.
How Mila Works:
As a buyer looking to get a task or errand accomplished:

Buyers access the marketplace to discover and browse local services offered by friendly people or businesses matching your need.
Or, buyers can post a specific need to the community and specify by when it needs to be done by and how much he or she is willing to pay.
Buyers can then get in contact with the person offering the product or service and they agree upon the details of the deal, like where and when.
Buyers pay for the service through the safety and convenience of Paypal.
As a seller offering services to accomplish a task or errand:

Sellers create a profile and enter the details of their offering with photos and description to increase the attractiveness of their services or products.
Sellers get found by people looking for services or sellers can browse the posts for those looking for help in their neighborhood to actively sell their products or services.
Sellers can get in contact with the person posting for help or a product and negotiate the details of the deal.
Sellers receive fast and secure payments and collect points to further enhance their trustworthiness.
To see how Mila works, watch our video: http://www.youtube.com/watch?v=JvcF73jljQA
Mila's apps for Android and iPhone will be available at the end of March.
See http://www.mila.com for more information.
About Mila:
Mila is a location-based mobile marketplace for tasks and products that lets people find, discover and buy services from friendly and skilled people in their neighbourhood. With Mila, busy people can get help to get tasks done while people or small businesses with spare time, skills or products can earn money through peer-to-peer transactions. Mila was established in 2013 as a spinoff of Swiss-based technology company coresystems, which specializes in building mobile platforms. Today, Mila has offices in Zurich, Switzerland, Shanghai, China, New York, New York, London, UK and Cluj-Napoca, Romania.
About the investors:
Peter Zencke is a German technology investor with an extensive career in business technology solutions. He was a longtime member of the executive board at SAP, the multinational enterprise software firm. At SAP, Zencke was in charge of the division that developed new application platforms and architecture. He also oversaw SAP's global research and innovation.
Adrian Bult, former Swisscom Mobile AG CEO and former Chief Operating Officer of banking technology firm Avaloq, has had a long career in technology and telecoms. He currently sits on several company boards as an advisory member and is a private investor in various technology companies.