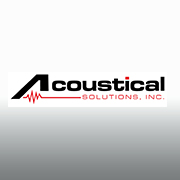 once we did the research we learned that without a doubt, the Dallas-Fort Worth area was where we wanted to be
Richmond, VA (PRWEB) March 01, 2013
For over 20 years Acoustical Solutions, the leading supplier of acoustical products in the United States, operated out of one office location in Richmond, VA. The company finally made the leap and expanded with a second operations center this year, located in Dallas-Fort Worth.
"We've been talking about opening up a second office for a few years now," says David Ingersoll, head of business development and operations for ASI. "But, once we did the research, we learned that without a doubt, the Dallas-Fort Worth area was where we wanted to be".
Acoustical Solutions, Inc. is the company behind popular brand name noise control products, such as Sonex™ Acoustical Foams, AlphaSorb™ Fabric Wrapped Wall Panels, AudioSeal™ Sound Barrier, Whisperwave™ Clouds, Baffles, and Ribbons, as well and the new and very popular AcoustiArt Printed Sound Absorbing Panels.
With an already strong client base in Dallas and surrounding cities, including corporate and government clients such as AT&T, Verizon, Whitlock, The Irving Arts Center, and Federal Reserve Bank of Dallas, Acoustical Solutions will continue to provide low cost, turnkey sound solutions in one of the country's largest commercial centers.
Acoustical Solutions new office space is located inside The Studios at Las Colinas in the Las Colinas Office Park. Inquiries to Texas Acoustical Solutions can be made by emailing dfw(at)acousticalsolutions(dot)com and by calling 972-869-7662 or toll free at 800-782-5742.
About Acoustical Solutions, Inc.:
Since 1989 Acoustical Solutions, Inc. has provided the detailed expertise needed to serve the noise control community. Acoustical Solutions, Inc. works with a wide variety of customers from commercial and residential development to worship facilities, recording studios, systems integrators, and home theater designers. Acoustical Solutions, Inc. offers the industry's most comprehensive selection of noise control and soundproofing products, including a full line of indoor and outdoor industrial, commercial, environmental, and architectural noise control products. For more information, please visit acousticalsolutions.com, call 1-800-782-5742, or see our media kit.
Also, visit Acoustical Solutions on Facebook, Twitter, and Linkedin.