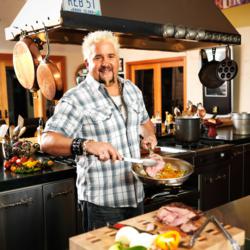 I'm stoked to continue working with the Lifetime Brands team to add new lines of top-performing cutlery to my collection.
(PRWEB) March 01, 2013
Lifetime Brands, Inc., a leading global provider of kitchenware, tabletop, home décor and lifestyle products, has entered into a licensing agreement with Knuckle Sandwich/Guy Fieri® to design, market, manufacture, and distribute Guy Fieri® cutlery worldwide to consumers.
Fieri and Lifetime Brands will show several new lines of cutlery to retail buyers at the International Home + Housewares Show in Chicago.
Lifetime currently holds the license for the Guy Fieri kitchenware, cutting boards, cookware, bakeware, and tabletop product categories. Lifetime helped Fieri launch his cookware, kitchenware, cutting board, and pantryware collections at retail in 2012 and will debut many more items in these categories in 2013.
According to Bob Reichenbach, President, Cutlery, Cookware & Bakeware, Lifetime Brands, "Guy is incredible to work with and we are excited to expand his collection even further with cutlery. Utilizing Lifetime's unique capabilities, we are confident that the technologies, materials and designs we are bringing to Guy's cutlery will result in exceptional product both in value and style. Guy's ongoing involvement in the product development process continues to be extremely valuable and we appreciate his passion for creating the best possible tools to help people prepare, cook and serve food at home."
Guy Fieri remarked, "I am excited to have reached an agreement with Lifetime Brands as the exclusive distributor for Guy Fieri cutlery; we already have a great partnership. I'm stoked to continue working with the Lifetime Brands team to add new lines of top-performing cutlery to my collection. I'm using the products in my own home and on my shows and I'm so excited to be able to offer consumers the same high-quality products for their own kitchens."
Lifetime Brands will begin shipping Guy Fieri cutlery to retail customers in July. Guy Fieri cutlery, cookware, kitchenware, pantryware, and cutting boards are currently available at select retailers nationwide.
About Lifetime Brands, Inc.
Lifetime Brands is a leading global provider of kitchenware, tabletop and other products used in the home. The Company markets its products under such well-known kitchenware brands as Farberware®, KitchenAid®, CasaModa®, Cuisinart®, Cuisine de France®, Guy Fieri®, Hoffritz®, Kizmos™, Misto®, Pedrini®, Roshco®, Sabatier®, Savora™, and Vasconia®; respected tabletop brands such as Mikasa®, Pfaltzgraff®, Creative Tops®, Gorham®, International® Silver, Kirk Stieff®, Sasaki®, Towle® Silversmiths, Tuttle®, Wallace®, V&A® and Royal Botanic Gardens Kew®; and home solutions brands, including Fred®, Elements®, Melannco®, Kamenstein® and Design for Living™. The Company also provides exclusive private label products to leading retailers worldwide. The Company website is http://www.lifetimebrands.com.