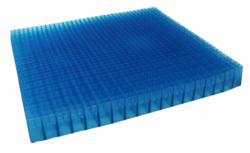 Alpine, Utah (PRWEB) March 01, 2013
WonderGel, a seller of unique gel seat cushions and other gel comfort products, launched its company and online store in early May 2010. Since then they've been constantly looking for ways to improve and optimize their website, and more importantly, make it user friendly.
The first addition in the early stages of their website was to add a Frequently Asked Questions page, helping customers understand a bit more about their new products and their uses, and other general instructions such as shipping and returns. Adding this page greatly reduced the number of customer service phone calls and messages as it helped customers navigate the ins and outs of the site and also get the quick answers they were looking for about WonderGel's products.
Later, WonderGel added a three minute video to their home page, highlighting the benefits and uses of WonderGel, and also giving a brief history of the technology that went into the creation of the cushion. This video became a big hit, with nearly 50,000 views so far. This video has also been embedded on the sites of WonderGel's resellers.
Now, WonderGel is making short videos specific to the questions and answers on their Frequently Asked Questions page. Some of these videos include How to Place an Order, How to Calculate Shipping, How to Track your Order, How to Apply a Coupon or Gift Certificate, and How to Wash Your WonderGel Cushion and Cover.
While the videos are short and to the point, they are instructive and easy to understand with step by step instructions and clear visuals. These videos are already proving successful in helping customers as the view count is climbing.
WonderGel plans to produce more how to and FAQ videos in the coming months to add to their website, as well as other videos about the products themselves.
Learn more about WonderGel and see their videos at http://wondergel.com/