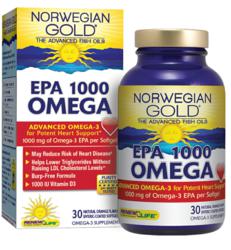 EPA is the heart healthy omega-3... and you need a certain amount of EPA to see these heart health benefits.
Clearwater, FL (PRWEB) March 08, 2013
Most fish oils contain a blend of both types of essential fatty acids, EPA and DHA. While both types offer many health benefits, it is Epa Omega-3 that helps to lower triglycerides and support healthy blood pressure without raising harmful LDL cholesterol levels, making it the best Omega-3 type for those looking to be proactive about their heart health.
Extensive research into the benefits of Epa Omega-3 have found that this nutrient helps the body maintain its normal inflammatory response, which in turns helps maintain healthy cholesterol, blood pressure, and triglyceride levels.
"EPA is the heart healthy omega-3," says Brenda Watson, C.N.C, PBS health educator, and ReNew Life President, "and you need a certain amount of Epa to see these heart health benefits. Clinical studies have shown us that a specific amount of Epa in the daily diet actually helps to lower the level of excess fats in the bloodstream, known as triglycerides. Supporting healthy triglyceride and cholesterol levels while maintaining a healthy inflammation response are the main ways in which Epa Omega-3 may help prevent heart disease."
In a recent clinical study, researchers found that 2,000 mg of Epa daily—the amount of Epa concentrated into two Epa 1000 Omega softgels—helped to lower triglycerides by 19.7% in just 12 weeks.1 "It can be difficult to get this amount of Epa in an EPA/DHA fish oil blend," says Watson. "You would have to take a handful of these fish oil sofgels to reach the level of Epa in Epa 1000 Omega. We formulated this concentrated Epa-only fish oil to give consumers a high potency heart-specific option."
EPA 1000 Omega's Extra Fish Oil Advantages
ReNew Life's Norwegian Gold fish oil line sets the standard for fish oil concentration, digestibility, and purity, and new Epa 1000 Omega is no exception. Epa 1000 Omega offers several distinct advantages:

Maximum Potency: 1,000 mg per softgel of heart healthy Epa Omega-3
Enteric Coated: No burping or fishy aftertaste and enhanced absorption
Immune Support: 1,000 IU of vitamin D for immune support
IFOS 5-star purity certification: The industry's highest purity rating against contaminants such as PCBs, heavy metals, and dioxins
Look for Norwegian Gold Epa 1000 Omega, the highest potency all-Epa fish oil sold in natural health food stores, and other Norwegian Gold Advanced Fish Oils at fine retailers everywhere in 2013.
About Renew Life
Named America's No. 1 Digestive Care and Cleansing Company by SPINS, ReNew Life Formulas was founded in 1997 by Brenda and Stan Watson and offers a full spectrum of natural digestive care supplements, fish oils, and functional foods. Each ReNew Life product is made from only the finest raw ingredients. The company's analysis, educational materials, customer service, and superior manufacturing practices all set the benchmark for others in the industry. Above all, ReNew Life is dedicated to helping their customers achieve and maintain optimal health, increase energy, and enhance their mental clarity.
For additional information on new Maximum EPA Omega or other Norwegian Gold advanced fish oils, please contact bcooper(at)renewlife(dot)com