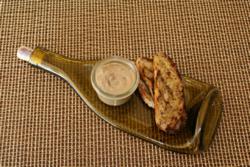 Dana Point, California (PRWEB) March 01, 2013
Dinner in enoSTEAK at The Ritz-Carlton, Laguna Niguel presents a new spin on a bottle of wine with dinner — amuse bouche of duck pate and grilled bread is served on a flattened wine bottle. In keeping with enoSTEAK's concept of sustainability, the flattened wine bottles are created by Elizabeth Gurklys, a southern California glass artist who uses recycled wine bottles from the restaurant.
"I started making flattened wine bottles after I saw one and thought how cool they looked, said Gurklys. "I made a couple and had them in my studio. A customer came by to pick up an order and promptly purchased both. That told me there was interest. I also love their recycled aspect as well – anyone who drinks wine has left over bottles and without wine in them, they are of little utility. I love that enoSTEAK gives them a second life," she added.
Elizabeth Gurklys is a corporate executive turned glass artist. She lives in southern California and is inspired by the local landscape and shore life to create original organic designs. With more than 15 years of experience developing and refining her art she has produced unique engaging pieces to use and behold. She combines various fused and cast glass techniques to express her visions unlike any other artist.
The flattened wine bottles are for sale in enoSTEAK, with a portion of the proceeds from the sale of each bottle going back to SEEDS Art and Education, Inc. Based in Laguna Beach, California., SEEDS is committed to the advancement of children's education by funding programs in the arts, sciences, and humanities. SEEDS supports arts and education programs that promote stewardship of the land, such as organic gardening, environmental awareness, and conservation. Supporting SEEDS is part of The Ritz-Carlton, Laguna Niguel's Community Footprints program. Through Community Footprints, dedicated Ritz-Carlton' ladies and gentlemen provide a wide range of support and services to their community, including fund-raising for local charities, reading to the blind, preparing and serving lunches at homeless shelters, donating books to schools and volunteering at food banks.
enoSTEAK is the newest addition to The Ritz-Carlton, Laguna Niguel's award-winning culinary lineup. A boutique steakhouse, enoSTEAK features prime and grass-fed pasture-raised beef, accompanied by organic produce that is locally grown and harvested at the peak of the season. Everything is sourced from farms within 150 miles from the resort. The majority of the herbs are gathered from the resort's organic garden. The prime beef is from Niman Ranch, a farm that is committed to raising the highest quality breeds and is dedicated to caring for its livestock traditionally. The chicken is Jidori™, which means "chicken of the earth." All of the fish is sustainable and either farm raised or pole/troll caught. The menu changes are based on the essence of the season.
About The Ritz-Carlton, Laguna Niguel
The Ritz-Carlton, Laguna Niguel premiered as the first luxury resort along coastal Orange County in August 1984. Today, the resort is a re-imagined surfside retreat that awakens guests' senses with its unique oceanfront setting and remarkable service heritage. The resort is the premiere destination for travelers who desire a playful approach to Southern California luxury. The resort has been the recipient of many awards over the years, but is proud to boast earning AAA Five Diamond status for the 28th year, the longest in California. The resort offers many extraordinary luxury experiences including RAYA, 180blũ, The Market Place, Bar Raya, The Spa and the Eco-Adventure Center. For more information or for reservations, call 800-241-3333, the hotel directly at 949-240-2000, a travel professional or visit the website at http://www.ritzcarlton.com/lagunaenoSTEAK.
About The Ritz-Carlton Hotel Company, L.L.C.
The Ritz-Carlton Hotel Company, L.L.C. of Chevy Chase, Md., currently operates 81 hotels in the Americas, Europe, Asia, the Middle East, Africa, and the Caribbean. More than 30 hotel and residential projects are under development around the globe. The Ritz-Carlton is the only service company to have twice earned the prestigious Malcolm Baldrige National Quality Award which recognizes outstanding customer service. For more information, or reservations, contact a travel professional, call toll free in the U.S. 1-800-241-3333, or visit the company website at http://www.ritzcarlton.com. The Ritz-Carlton Hotel Company, L.L.C. is a wholly owned subsidiary of Marriott International, Inc. (NYSE: MAR)