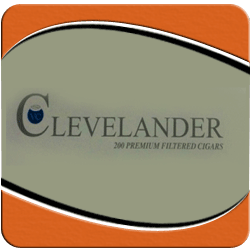 Miami, FL (PRWEB) March 08, 2013
TrueTobacco.com, one of the largest and most successful online tobacco stores in the country, announced today that they will be hosting a special one-day sale of Clevelander Filtered Cigars on February 15th. The sale will mean big savings on the popular brand of filtered and flavored cigars, with some products available for as low as $0.05 a smoke!
Clevelander Mini Cigars are a very popular miniature cigar brand produced by the world-renowned Virginia Carolina Tobacco Corporation. Clevelanders are offered in a variety of styles and flavors, including Full Flavor, Grape, Vanilla and Menthol. They are also one of the few filtered little cigars to offer a "Light" style. Made from high-quality tobacco grown in three of America's most prolific tobacco-producing states - North and South Carolina and Virginia – Clevelander Small Cigars have grown in popularity over the past few years as a low-cost alternative to cigarettes. Many smokers claim that filtered cigars provide more "bang for your buck" than cigarettes, and they often cite the steadily-increasing cost of most major cigarette brands as their reason for making the switch.
Nick Gordon, the General Manager of TrueTobacco.com, thinks that the popularity of cigarettes is waning because of their cost and the lack of quality in their tobacco. "Little cigars cost less than cigarettes, they burn longer and they offer a better quality smoke," says Gordon. "Cigar lovers like them because it gives them a chance for a quick smoke when they otherwise couldn't have a cigar. Former cigarette smokers like them because they offer more flavor, more aroma and fewer chemicals."
Clevelander Little Cigars are known to be very subtle, not unlike a cigarette, but with a bolder, more noticeable tobacco aroma. The option of smoothing out the tobacco flavor with the Light variety or flavors like Vanilla and Grape has convinced many cigarette smokers to switch to cigars full-time.
TrueTobacco.com currently offers Clevelander Mini Cigars in cartons of 200, with Full Flavor, Vanilla, Grape, Menthol and Light all included in the promotion. The sale will begin at midnight on February 14th and end at midnight on February 15th.
About the Product:
Clevelander Filtered Cigars offer a filtered and flavored alternative to cigarettes, with a longer burn and fuller, more pleasant tobacco flavor. Using nothing but the highest-quality American Tobacco, Clevelanders are manufactured in five styles and flavors: Full Flavored, Light, Vanilla, Grape and Menthol.
About the Company:
TrueTobacco.com is a trusted online purveyor of tobacco and tobacco accessories, with one of the largest stocks of products on the Web. The company carries all manner of tobacco products – from stogies to pipe tobacco – as well as a growing inventory of tobacco accessories.