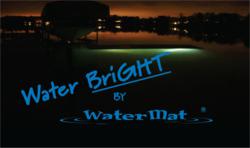 WaterBright lets you use your WaterMat after the sun goes down...
Elkhart, IN (PRWEB) March 05, 2013
Responding to consumer feedback that it's just too darn hard to get the kids off the WaterMat when it starts getting dark, the makers of the WaterMat light up the nighttime fun with the new battery-powered, WaterBright. As the sun starts to set, the WaterBright safely extends your no hassle fun on your WaterMat.
Rated for over 50,000 hours of life, the submersible LED WaterBright illuminates the WaterMat with a distinctive glow, as well as provides greater visibility in hard to light areas on and around the water.
WaterBright was designed with convenience and versatility in mind. "WaterBright is another no hassle concept that solves a real problem for lake home owners," says Jay Crookston, H2Opod partner. "Water sports enthusiasts often find themselves scrambling against the setting sun to secure their dock and pull in the water toys. We developed WaterBright to instantly illuminate hard to reach areas quickly and conveniently." The WaterBright can securely hang under your boat canopy; under your dock; under your pontoon boat; on your stairs to the beach…or under your WaterMat for a luminescent glow that safely marks it for evening guests and playtime!
Like all products in the WaterMat product family, the durable WaterBright is made to last in the USA and is designed to deliver countless hours of safe, no hassle fun. Changing the 3AA alkaline batteries takes just a minute and the patent pending holster is easily washable. WaterBright is available for sale today at http://thewatermat.com/ and can be used with all WaterMat models both new and old.