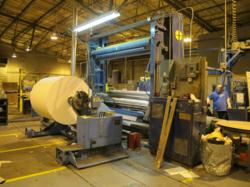 Chicago, IL (PRWEB) March 01, 2013
HYPERAMS, LLC will be conducting an online auction of Major Paper Converting assets from a plant closing in New York. The online auction will close March 5, 2013 at 10:00AM CST. The assets are located at 99 Bud-Mil Drive, Buffalo, NY 14206. Interested parties can visit hyperams.com/auction for additional information and to register for the sale.
Included in the sale:Clark-Aiken Model 150A324, Jagenburg Synvect-165 Sheeter, Southworth Carton Line, Cameron Shaftless Rewinder, power paper cutter/shear, pallet/roll turner, balers & dust collectors, packaging equipment, pallet shrink wrapper, lift trucks & clamps, compressors & dryers and scales. The assets can be previewed at the facility on March 4th or by appointment only.
To get more information about HYPERAMS and upcoming auctions visit hyperams.com. Upcoming auctions include; Delta Craft Paper Company, MEC Equipment, Vehicles Excess to the On-going Operations of Grade-A Construction and Surplus to the Ongoing Operations of a Major Defense Contractor.
About HYPERAMS, LLC
The HYPERAMS Asset Disposition Team focuses on investing in the excess assets of distressed and healthy companies operating in the middle market and below. HYPERAMS' Appraisal Team provides valuations of machinery and equipment in most industry verticals, and of consumer product inventory.
For details on the sale, full list of assets, photos and inspection times, visit hyperams.com or call (847) 499-7049.