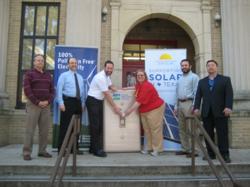 This array will do more than help the school save on its electricity bill and reduce its environmental footprint, it will also provide real-life data for the students to use in their everyday curriculum. — Tony Napolillo, Green Mountain Energy Sun Club
Houston, TX (PRWEB) March 01, 2013
Woodrow Wilson Montessori School and the Green Mountain Energy™ Sun Club™ have "flipped the switch" on the school's new solar panels, which will provide a renewable source of energy for the H.I.S.D. magnet school and help students learn about solar energy. The solar system was made possible by a $50,000 donation from the Sun Club, a voluntary program in which Green Mountain Energy Company residential customers, including many in Houston, make monthly contributions toward solar generation systems for non-profits.
The Sun Club provided the 39 solar panels which take up 585 square feet of the roof of Wilson Elementary's outdoor pavilion. The panels will provide the school with pollution-free electricity generated by the sun. The 9.55 kilowatt (kW) array is expected to generate about 11,600 kilowatt-hours (kWh) of renewable energy each year. By using renewable energy instead of traditional power, the school will avoid an equivalent production of 13,400 pounds of carbon dioxide (CO₂) annually. This is the same amount of CO₂ generated when driving 15,000 miles in a car! The solar energy system was designed and installed by Akari Energy.
"The solar panels from the Sun Club assist tremendously in the school's efforts to be a leader in environmental education and reduce waste," said Wilson Principal Beth Bonnette. "We're excited to enhance renewable energy education in our curriculum by teaching our students about the importance and impact of this solar array."
The panels come with a monitoring system displaying the output of the solar array and electricity needs of the building. Students will compare classroom usage with the amount generated by the system and look for ways to conserve.
"This array will do more than help the school save on its electricity bill and reduce its environmental footprint, it will also provide real-life data for the students to use in their everyday curriculum," said Tony Napolillo, Sun Club program manager, Green Mountain Energy Company. "We are literally putting our energy future in the hands of these students as they understand and implement conservation and renewable energy education into their school work and daily routines."
Wilson is the 45th Sun Club dedication since the program was founded in 2002 and the 14th in the Houston area.
Pictures of this solar installation will be added to Green Mountain Energy's Flickr stream: http://www.flickr.com/photos/greenmtnenergy/
Woodrow Wilson Montessori School
Woodrow Wilson Montessori School has been educating children through engaging curriculum since 1924. Nearly 500 students are enrolled in the prekindergarten through 8th grade Montessori Magnet program. Wilson is Houston ISD's first and only campus with a complete Montessori curriculum, which provides students with an insightful and purposeful learning environment.
Through the program, students learn about renewable energy, water conservation, waste diversion and gardening. Wilson has a bigger and brighter future with solar. The school has plans to create a solar farm, and science teachers are developing curriculum around the new solar panels. Learn more about the school at es.houstonisd.org.
Green Mountain EnergyTM Sun ClubTM
Green Mountain EnergyTM Sun ClubTM is a program where Green Mountain residential customers in New York, Pennsylvania and Texas have the opportunity to give back to deserving non-profit organizations through the promotion of solar power. Direct monthly contributions from customers go toward the funding of solar installations. Since the program's founding in 2002, Sun Club members have helped install more than 500 kilowatts of solar power, preventing over 787,300 pounds of carbon dioxide (CO2 ) emissions each year. That's like not driving 878,500 miles or 390 households turning off their lights for a year. For more information, visit http://www.gmsunclub.com.
Green Mountain Energy Company
Green Mountain is the nation's longest serving renewable energy retailer and believes in using wind, sun and water for good. Founded in 1997, the company is a green power pioneer and celebrates 15 years delivering on the mission to "change the way power is made". Green Mountain offers consumers and businesses the choice of cleaner electricity, as well as carbon offsets and sustainable solutions for businesses. One of Green Mountain's largest customers is the "world's most famous office building," the Empire State Building in New York City. Green Mountain customers have collectively helped avoid over 19.4 billion pounds of carbon dioxide (CO2) emissions. Visit us online at http://www.GreenMountain.com and learn more about our campaign for good at http://www.greenmountain.com/forgood.
###