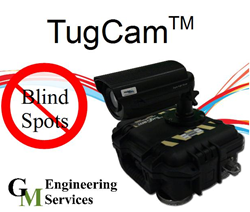 The TugCam should be standard equipment on every push where the captain does not have proper line-of-sight.
Virginia Beach, Virginia (PRWEB) March 01, 2013
Every year, barges are pushed along our waterways by tugboats with their captains not being able to see what is in front them. These captains are put under a great deal of stress having to rely on the eyes and ears of their lookouts to give them critical navigational information on how fast to go and when to turn. These lookouts can be can be unreliable and cause a great deal of information delay. The TugCam from GM Engineering Services is designed to increase safety and efficiency by allowing the captain to place their eyes anywhere on the vessel virtually eliminating blind pushes and allowing them to see in complete darkness.
GM Engineering Services is proud to announce the release of its latest version of in the TugCam series that eliminates blind spots for tugboat operators and allows them to see in complete darkness. A complete video from the latest TugCam including four different shots from using the TugCam during sea trials is available at http://www.gmesllc.com/tugcam-eliminates-blind-spots-see-in-complete-darkness/.
"A tugboat captain's most important objective is to make sure that he has his eyes around the vessel at all times," explains Captain Mike Mahlmann with Crofton Industries. "The TugCam is an excellent platform to allow me to place my eyes anywhere around the vessel or barge in a matter of a couple minutes. The TugCam should be standard equipment on every push where the captain does not have proper line-of-sight. In conjunction with a good deckhand, no captain should operate on brown water without a TugCam."
"We greatly appreciate Crofton Industries support of the latest version of the TugCam and their commitment to safety on our waterways," explains Mr. Christopher Machut, Chief Technology Officer with GM Engineering Services. "Our latest TugCam demonstrates GM Engineering Services ability to continually evolve and create quality situational awareness platforms ultimately making our waterways safer for all commercial and recreational traffic."
The TugCam is a rapidly deployable wireless camera system designed to increase the safety and efficiency of the captains and crew. The TugCam TC115 / TC116 camera system features infrared illuminators designed specifically for use on the water. Improvements extend all around the platform including easy to adjust zoom and focus and thumb screws to quickly tilt the camera in any direction. As with all TugCam's, this version contains a wireless transmitter with rechargeable battery and magnetic base to secure the TugCam to virtually any magnetic surface.
From construction sites to marine ports, GM Engineering Services provides innovation situational awareness platforms that eliminate blind spots. Each platform manufactured by GM Engineering Services is designed to increase situational awareness resulting in improved safety and efficiency for captains, operators and the entire team working around them. For more information on the TugCam, contact GM Engineering Services at +1 (757) 819-4600 or visit http://www.tugcam.com!