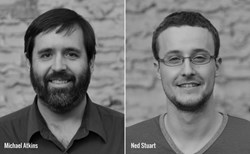 The newly formed positions will help meet the growing demand of CakeSystems' home energy auditing software throughout the U.S.
Portland, OR (PRWEB) March 04, 2013
As Junior Java Developer for EAI's software development department, Ned will focus on Java-based projects associated with CakeSystems software and other innovations. He previously worked as an independent Android application developer for TopCoder and as a web developer for an Oregon state senate campaign. Ned most recently served R/West in Portland as an interactive design contractor where he designed interactive web applications for clients including Bridgeport Brewery and Burgerville. He attended Western Oregon University.
Michael Atkins, technology solutions manager, served for six years as solutions consultant for TransUnion. While there he consulted with three of the top banking institutions on behalf of TransUnion to integrate their identity management products. Prior to that, he was the technical support manager for Healthnotes, managing the technical development and support on several thousand informational kiosks across North America. His specialty is managing complex IT development projects enabling rapid and accurate deployment.
As the Technology Solutions Manager at Earth Advantage Institute, Michael will manage the delivery of software platform development and customization for utility and program management customers throughout the U.S. related to CakeSystems. He is also responsible for the smooth transition to version 2.0 of the software, including a complete user interface redesign. David Heslam, executive director said, "Michael's more than a decade of IT development management will allow CakeSystems to continue to grow and expand its functionality. We're thrilled to have Michael on-board in this new position at this exciting time in CakeSystems' development." Michael holds a B.S. from the University of Wisconsin, Madison.
About Earth Advantage Institute
Earth Advantage Institute's nonprofit mission is to design tools for better buildings, directly and permanently reducing greenhouse gas emissions. Their focus is on building certification, education, research and consulting. The EAI vision is to create a building industry in harmony with the natural environment.
For more information about CakeSystems software:
Andrew Healy, National Sales Manager
ahealy(at)cakesystems(dot)com
(503) 858-4899
For more information about Earth Advantage Institute:
Erik O. Cathcart, Director of Marketing & Strategy
ecathcart(at)earthadvantage(dot)org
(503) 968-7160 x21