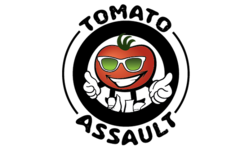 Meaningless Fun for Meaningful Causes.
Chicago, IL (PRWEB) March 05, 2013
Modeled after La Tomatina, the annual festival held in Bunol, Spain in August, Tomato Assault offers an extremely unique way for community members to enjoy live local music, a costume contest, inflatables, a never-ending beer garden and a full fledged food fight featuring up to 40,000 pounds of tomatoes. On September 21st, 2013 Tomato Assault will bring its unique event to the Chicago area with the goal of creating "Meaningless Fun for Meaningful Causes."
This year Tomato Assault will hold its Chicago event at Toyota Park, located at 7000 S Harlem Ave Bridgeview, IL 60455. The Tomato Assault day will begin at noon and end at 6pm. The battle will begin at approximately 4pm and will last roughly one hour. Event organizers anticipate over 3,000 participants and hope for this to begin an annual tradition.
Tomato Assault is a Seattle, Washington based company started by Brian Hallberg and Michael Whitmarsh in 2012. The company will hold eight events across the country in 2013 and plan for 15 more in the following year. Events run from May through September, depending on the tomato growing season. The tomatoes involved in Tomato Assault's events are inedible and primarily surplus. Hallberg and Whitmarsh enjoy giving back to the communities enjoying their events and do this by donating at least 5 dollars from every ticket sale to the National Multiple Sclerosis Society. This goes to promote their goal of having "Meaningless Fun for Meaningful Causes." They hope to be able to donate over $150,000 to the MS Society at the end of the summer. In addition to the 5$ per ticket donation they will also donate an additional $5,000 for the city with the most participants. This $5,000 donation will go to the charity of their choice and will be placed in the name of the winning city's mayor.
Tickets will soon be available through the Tomato Assault website and will also be available at the gate on the day of the event. For more information or behind the scenes passes, members of the media can contact the event organizer directly at (206)-235-7935 or info(at)tomatoassault(dot)com.