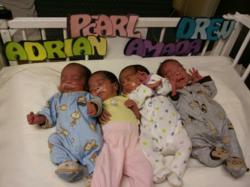 Once I was in the air, everything was smooth-sailing.
Scottsdale, Arizona (PRWEB) March 01, 2013
After a long trip away from home (Watertown, New York), Jessica Lucero and her babies made it home, thanks to the help from the staff at Angel MedFlight. (Please see the full story in our video)
Angel MedFlight Air Ambulance not only made all of the flight arrangements, but made sure the insurance company covered the flight financially.
Loading the babies and mom and grandma on the two Learjet 60s, the jets took off from the warm Valley of the Sun and flew over 2,000 miles to safely land in New York. The smooth flight lasted just over three hours total, and was welcomed in New York to temperatures below zero.
Jessica reunited with her wounded Veteran husband, and went home to a special home make-over courtesy of Operation Homefront and Home Depot.
About the safe flight Jessica said, "Once I was in the air, everything was smooth-sailing."
More about the Lucero family:
After losing five pregnancies and twin babies, Jessica Lucero needed special attention for her high-risk pregnancy when she found out they were having quintuplets. She left her Veteran husband at home in Watertown, NY to fight for the life of their babies at a special facility in Arizona. The family lost one baby, but have four surviving and are all back with mom and dad.
About Angel MedFlight:
Angel MedFlight coordinates domestic and international air medical transportation services, commercial medical flights, ground ambulance services and provides discretionary insurance benefit assistance. Angel MedFlight's One Touch Promise® assures every detail is handled and all resources are committed to guide the process from start to finish with a compassionate team of experts in the fields of medicine, aviation, insurance law and case management.