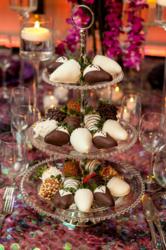 "Bobalu Berries has proven time and time again to be a guest favorite at weddings. They are perfect for bridal showers, take-away favors, and the most elaborate dessert bars at elegant weddings." -Renee Strauss, Celebrity Wedding Expert
Oxnard, California (PRWEB) March 04, 2013
Grown on one of California's largest family strawberry farms in Oxnard, decadent, chocolate-covered Bobalu Berries are fast becoming the must-have item for stylish weddings. In fact, recently engaged American Idol superstars, Ace Young and Diana DeGarmo, are planning to have Bobalu Berries take center stage as the take-away favor for their celebrity friends and family at their June 2013 wedding. In addition, Celebrity Wedding Expert, Renée Strauss, star of TLC Network's Brides of Beverly Hills, has been named Bobalu Berries Event and Luxury Industry Brand Consultant. Renee has fallen in love with Bobalu Berries, naming the delectable, hand-dipped treats as the official berries of her famous Beverly Hills bridal empire. In this role, Renee will develop new products and reach out to new customers worldwide on behalf of Bobalu Berries.
Beyond cupcakes or cake pops, Bobalu's luxurious chocolate-enrobed berries are the perfect sweet reminder of your special event and the latest way that brides and grooms are making their own distinctive and delicious reception style statements. Bobalu Berries Brand Consultant, Renee Strauss, expert on the products that people continuously turn to for their special events, and who works with top celebrity clients planning large-scale luxury events, sees time and time again how Bobalu Berries is a proven favorite – even at the most elaborate dessert bars at elegant weddings. Bobalu Berries are starring at all occasions - from bridal showers, rehearsal dinners and as pre-ceremony treats for the bridal party to enjoy.
The wide selection of flavorful berry styles makes it easy to find a berry to fit every wedding's theme, style, and decor. Bobalu's Wedding Berries are hand-dipped and decorated with dark and white chocolate to re-create the look of a groom's tuxedo and a bride's dress adorned with candied pearl accents. Couples can select from Bobalu's gourmet varieties or create their own custom designs and packaging. Wedding planners can rely on the highest quality and attention to detail that only a family-owned company can provide. Perhaps best of all, each order of Bobalu Berries arrives within 24 hours of being picked in the field.
Since 1958, the Jones family has grown strawberries on their Southern California farms. In 2010, Bobby Jones – the third generation in this farming family - launched Bobalu Berries (http://www.bobaluberries.com) to share even sweeter strawberries with the world, by enrobing the fruit in mouth-watering chocolate. Today, each selection of world-class strawberries continues to be handpicked on the family farm, chocolate-dipped, and shipped on the same day, ensuring their incredible freshness, gorgeous color and fabulous taste. In addition to farm-to-table delivery within 24 hours, Bobalu Berries offers milk, dark, or white chocolate varieties coated in delicious toppings ranging from mini chocolate chips and shredded coconut to toffee and chopped nuts. Gift boxes come in 6, 9, or 12-berry combinations, with custom orders and designs welcomed for larger quantities, including weddings and wedding-related events.
Go to http://www.bobaluberries.com to see the scrumptious selection.
About Bobalu Berries
This family-owned business, named for the farm's founders (Bob and Lupe Jones), is proud to have earned its reputation as the nation's finest, and freshest, hand-dipped chocolate strawberries. Grown on a network of family-owned strawberry ranches in sunny Southern California, Bobalu Berries are the freshest berries because they are hand-picked, hand-dipped, hand-packed, and shipped on the same day they are ordered.
Bobalu Berries offers specialty designs for weddings and to celebrate the arrivals of baby girls and boys. Custom creations are available to fit the theme of any celebration, in any quantity. Working with professional event producers, party planners, and hotel concierges, Bobalu Berries are fast becoming a must-have item for celebrity weddings and special events.
Bobalu's family values come through in the company's commitment to quality, dependability and customer satisfaction. Bobalu's superior shipping methods ensure each order of arrives with flavorful satisfaction. Bobalu Berries gift boxes are shipped nationwide and are competitively priced from $19.97 to $ 34.97 (plus shipping).
See more details at http://www.bobaluberries.com.
###