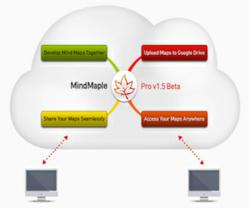 For a limited time, MindMaple Pro v1.5 Beta is free to download, so users can see just how beneficial this collaborative mind mapping solution truly is!
Santa Clara, CA (PRWEB) March 05, 2013
MindMaple Inc., the Santa Clara, CA based mind mapping software company, have released the Beta version of MindMaple Pro v1.5. This version has been developed and released as a result of customer feedback and is the next step in the evolution of productivity software. These new features are not only helping users manage tasks from a personal level, but now friends, classmates and colleagues can collaborate on mind maps in a real-time, cloud-based environment. The days of emailing a file back and forth are a thing of past and the days of real-time collaboration are here to stay.
The MindMaple collaborative feature is an online function that allows users to upload, save and launch MindMaple documents from the widely used Google Drive platform within Gmail and Google Apps. Once a file is synchronized and stored in Google Drive, this is where the true benefits to MindMaple Pro v1.5 Beta take over.
Let's suppose there is a marketing team that are not in the same physical location, but the team would like to use MindMaple Pro v1.5 Beta to brainstorm ideas for an upcoming product launch. By utilizing this latest technology and cloud-based software, the team can quickly and efficiently collaborate within a shared file, while each team member can see these ideas and effectively feed off of them. This is just one example of how an individual or group can benefit from MindMaple Pro v1.5 Beta. By taking advantage of these cloud-based files, anyone that has access to an internet connection can share and collaborated with whomever they need to. The technology is in place, so now it's up to the user(s) to decide how they can best utilize it to their benefit.
You can learn more about this software and download it for free by visiting, http://www.mindmaple.com/Collaborative/.
Looking for help with these new features, there is an online manual that provides step-by-step instructions through each feature and process. Users can access that link here: http://www.mindmaple.com/help/introduction.html.
For general information on MindMaple Inc. and their product line, visit their website at http://www.mindmaple.com. To "Like" them on Facebook, do so at http://www.facebook.com/MindMaple and stay up to date with the evolution of their PC, iOS and soon to be released Mac OS X versions of MindMaple Lite and MindMaple Pro.
Additional information, comments or questions should be directed to support(at)mindmaple(dot)com.