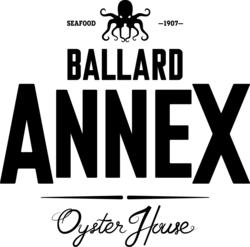 Seattle, WA (PRWEB) March 06, 2013
Ballard Annex Oyster House, a new offering from Seattle restaurateur duo Nathan Opper and Zak Melang, will open its doors at 5410 Ballard Ave NW. The historic Ballard News Building, located next to the Centennial Bell Tower and former site of Ballard City Hall, will house the restaurant and bar.
Decked out with an oyster bar, tanks of whole Dungeness crab and Maine lobsters, plus three steam kettles, the Annex will serve up plenty of shellfish, seafood, and soup.
"We're shooting for eight varieties of Pacific oysters every day. We'll have them on the half shell, steamed, or baked—Oysters Grand Fromage, Sante Fe, and Rockefeller," said Nathan Opper who led menu development. "Having live tanks means lots of crab and lobster on the menu," said Opper. "We'll offer Dungeness in a crab cocktail, in cakes, and as an entrée. Lobster fans have lots of choices—bisque, rolls, and house-made ravioli." Seattle native, Chef Josh Green, formerly of Ponti and the Virginia Inn, will be at the helm.
The Annex beverage program highlights sparkling wine, clear spirits, and salty cocktails. "We're excited for Bloody Marys, Bloody Caesars, and lots of bubbles," said Zak Melang, who co-owns the restaurant and directed its extensive renovation and re-design. In designing the Annex, "my goal was to create an attractive space comfortable for every seafood lover—whether you want to grab a counter seat and a quick bowl of chowder or sit down for cocktails, oysters, prawn scampi, and dessert." The 4,000 sq. ft. restaurant seats 35 in the bar area, 65 in the dining room, and 60 in an upstairs back bar.
The restaurant will have an oyster happy hour, serve dinner seven days a week, and open for lunch Friday through Sunday. For the latest news from Ballard Annex Oyster House and information on the grand opening, visit BallardAnnex.com or follow the restaurant on Facebook and Twitter.
About
The Ballard Annex Oyster House serves classic seafood dishes including plenty of oysters and shellfish, whole Dungeness crab and Maine lobster, as well as fresh bisque and chowders.
The restaurant revives an historic building on the corner of Ballard Ave NW and 22nd Ave NW. The renovated 4,000 sq. ft. space seats 35 in the 21 plus bar area, 65 in the dining room, and 60 in an upstairs back bar. For more information, visit http://www.ballardannex.com, facebook.com/BallardAnnex, or twitter.com/BallardOysters.