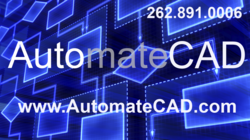 Honolulu, HI (PRWEB) March 01, 2013
Great news for engineering firms using Autodesk ® AutoCAD ® software. Jamtgaard Structural Engineering LLC with home offices in Honolulu, HI., unveils a new Autodesk® software consulting and customization service, AutmateCAD.
AutomateCAD's team of top level developers will provide AutoCAD® workflow automation software customization to significantly increase software efficiency and project workflow speeds saving time and money.
AutomateCAD can achieve up to 50% increased project workflow speeds allowing engineers to complete repetitive tasks in less than one one-hundredth of the time.
AutomateCAD understands the time and dedication engineering firms invest into the design, fabrication and construction of engineering projects. The liability of costly mistakes and repairs can be in the thousands of dollars for just one error.
Why take chances when a team of guru level expert developers is standing by to provide custom Autocad programming for engineering workflow and help save 20 - 30% or more in time and money while:
Improving accuracy
Improving performance
Improving efficiency
And improving the bottom line!
AutomateCAD will customize Autodesk® AutoCAD® software tailored to a company's specific workflow requirements linking workflow together including: AutoCAD®, AQL Database ordering systems, engineering and FEA analysis with detailing, CNC files for manufacturing and much more.
Integration and sharing between all Autodesk® products.
Contact AutomateCAD for a consultation analysis for AutoCAD® software customization.