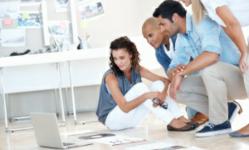 Imagine receiving visitors to your business website that had previously never been to your site but have shown through browsing history or online "behavior" they are in the market for a product your company provides. — TMM President Dave Rider
Seattle, WA (PRWEB) March 01, 2013
Many companies use SEO or SEM to drive traffic to a business website. What happens when those visitors leave the website? Most never come back. Retargeting delivers targeted ads to website visitors after they leave the website by placing ad impressions on a network of thousands of major media websites. Retargeting also works with targeting previous website visitors with ads on Facebook.
Here's a scenario - a potential client visits your website then leaves. Later that night they are on facebook or any one of a network of thousands of websites and abracadabra - they see ads for your business or special offer, they click on the ad and now they are back on your website. Statistics show that repeat visitors to a website have a much higher percentage chance of purchasing a product or service than first time visitors.
Retargeting helps maintain awareness of a website throughout the buying cycle. By reaching out to website visitors multiple times after they leave a website, it increase the chances that the website visitor will come back and do business with the company again.
Here's how Pixel Targeting™ or Online Behavioral Marketing works.
Today's shoppers visit dozens or even hundreds of websites and spend countless hours researching products and services they are in the market for. All of this research creates a trail of data as internet shoppers decide on the next purchase. Tech Media Marketing purchases this data and delivers ads to these qualified prospects in real time as online shoppers occurs.
Clients get the best results because ads are delivered to people who are actively searching for a product or service a company offers, even though the internet shopper may never heard of the company or visited the company website.
TMM President Dave rider says "Imagine receiving visitors to your business website that had previously never been to your site but have shown through browsing history or online "behavior" they are in the market for a product your company provides. Gotta love technology, right?"
Tech Media Marketing, Inc. builds business online for companies by driving traffic and converting website visitors into clients. TMM offers a varity of online marketing strategies including search engine optimization (SEO), search engine marketing (SEM), online advertising, retargeting, pixel targeting, client conversion, email marketing, video marketing, content writing and blog site management.