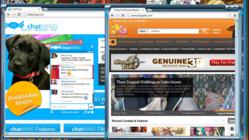 San Jose, CA (PRWEB) March 22, 2013
Chatwing.com and its developers have recently observed the rapid changes in the browser-based gaming arena. With this observation, the developers recognized the frequency of browser-based discussions. As gamers reached the Chatwing chat widget, these browser-based game discussions reached tremendous growth, and visitors are now exploring many topics every now and then.
Chatwing's developers recommend the chat box for serious browser-based gamers. With the chat box, the gamers can find more friends and exchange gaming information. Browser-based games are known for their time constriction techniques to hook in more gamers. More often than not, gamers need help when it comes to building alliances and accomplishing quests; Chatwing tool can solve these dilemmas through proper global connectivity.
Facebook gamers can also use the chatbox to find more tips and game neighbors. Since there are also many browser-based games in Facebook, this is a highly useful option for connectivity. Twitter, Google, and Yahoo login methods are allowed for greater means of connecting. Browser-based gamers who have blogs can install the Chatwing shoutbox to generate activity. With a real-time gaming chat lounge, the website owner can invite subscribers at an easy rate.
Through website chat, browser-based gamers can reach great heights. The Chatwing Team will always introduce upgrades to the chat platform, helping not only browser-based gamers, but people from other niches as well.
About Chatwing.com
Chatwing.com specializes in the new field of website chat. Over years, the Chatwing team has introduced live chat widget for hundreds and thousands of blogs. The Chatwing application bridges people from many parts of the world, creating global synergy through the Internet. The shout box can be installed in just seconds, and it can be used for varying purposes such as leisure and Internet marketing. It also allows a user to customize the size, color, and name of the widget. Chatwing is 100% free for everyone.