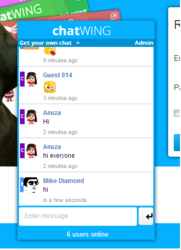 Boston, MA (PRWEB) March 23, 2013
Entrepreneurs, especially those in the start-up stage, can now gather important advice in Chatwing's newest chat widget. The recent chat app launched by Chatwing is built for entrepreneurs because of its capability in ensuring global connection and social media reliability. The chat app can also help entrepreneurs establish their online presence—a helpful technique that will generate profits in the long run.
The Chatwing chatbox can support any entrepreneurial website by providing a lounge wherein visitors can gather and start many discussions. Commonly, in an entrepreneurial website, visitors tend to ask about the latest products and services. Entrepreneurs will also ask about the experiences of other professionals, hence the relay of helpful advice. Installing the chatroom tool takes only few seconds, yet it has numerous customization options that can be controlled.
To make the chatroom more interesting, users can check out its color schemes, sizes, and other parameters. Entrepreneurs can set the color schemes according to the recent updates or changes in their websites. Additionally, they can also add useful background images from Chatwing's collection. Chatwing's images are a mixture of colors, designs, and most were suggested by creative web users around the world. Additionally, Chatwing users can add MP3 song links to keep the chatroom more enticing as possible.
Chatwing's developers will keep adding more changes to their website chat tool. These changes are parts of Chatwing's grand strategy to reach out to various niches. Also, the developers will also update the company's Facebook page often.
About Chatwing.com
Chatwing.com specializes in the new field of website chat. Over years, the Chatwing team has introduced live chat widget for hundreds and thousands of blogs. The Chatwing application bridges people from many parts of the world, creating global synergy through the Internet. The shout box can be installed in just seconds, and it can be used for varying purposes such as leisure and Internet marketing. It also allows a user to customize the size, color, and name of the widget. Chatwing is 100% free for everyone.