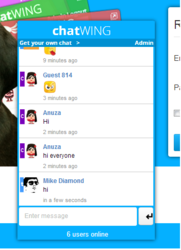 Seattle, WA (PRWEB) March 24, 2013
The Anime community can now use the latest chat box introduced by Chatwing.com—a company that excels in creating chat apps and empowering website owners. Aside from that, the developers of the company also reached out to Manga fans. With the embeddable Chatwing tool, Anime lovers can start discussions and share their thoughts about Anime shows, collectibles, latest Manga, and many more.
Bloggers specializing in the Anime niche can install the Chatwing chatbox in just seconds. After registration through email address, the user can now go straight to the account dashboard. There, the chatroom's color schemes can be set. Background images are also allowed, and the user can select from Chatwing's background image collection. Alternatively, Anime lovers can upload a background image link. Anime-related images are effective for this.
Manga fans can also use the chat box to discuss about the latest Manga creations. If a fan is curious about a complicated Manga plot, he can start a discussion in the chatroom. The admin can share his answers and opinions in just seconds. Manga creators can also market their works with the help of the Chatwing tool. Social media interaction is also allowed—visitors can now log in with their Facebook, Google, Twitter, and Yahoo accounts.
With Chatwing's competitive website chat app, Anime lovers can have a new communication experience. This experience will resonate, affecting more fans online. To deal with the possible influx of users, Chatwing's developers will push for more platform upgrades.
About Chatwing.com
Chatwing.com specializes in the new field of website chat. Over years, the Chatwing team has introduced live chat widget for hundreds and thousands of blogs. The Chatwing application bridges people from many parts of the world, creating global synergy through the Internet. The shout box can be installed in just seconds, and it can be used for varying purposes such as leisure and Internet marketing. It also allows a user to customize the size, color, and name of the widget. Chatwing is 100% free for everyone.