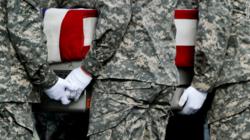 The dramatic movements of mind caused by PTSD can actually be a gateway for realizing the Peace that is free of any phenomenal experience of mind.
Kauai Hawaii (PRWEB) March 01, 2013
CNN reported a gruesome statistic: 345 confirmed suicides last year among active and non-active military personal. Of that number 182 were active duty suicides. This number is a record according to the CNN report. It is uncertain what the causes are for such a high number, but post traumatic stress syndrome, known as PTSD, as well as the militaries inability to deal with, what some call an epidemic of, PTSD veterans, are believed to be contributing factors.
You don't have be a veteran of war or even be in a war zone to experience PTSD. A car accident, child abuse, rape, witnessing or experiencing a violent event, terrorism, and even being raised by a PTSD veteran can all cause PTSD. For example, the tragic events of 911 caused a kind of global PTSD and PTSD is certainly a factor in the record number of suicides reported last year.
What many people do not realize is PTSD is not just psychological phenomenon, it also has a physical and genetic aspect. The trauma of any event is actually stored in the physical body as well as the limbic system in the brain. The limbic part of our brain is the source of our natural instinct to survive, but in the case of PTSD, the trauma of past events are experienced as if they are occurring in the present moment. This is why a firecracker exploding can cause a PTSD combat veteran to fall on the ground.
Kosi said, "Most of us cannot even imagine the traumatic circumstances that cause PTSD. The actual experience of being in a war zone or a violent car crash is far different than anything that can be magined. PTSD also has a kind of stigma associated with it, especially among military veterans. It is often associated with fear or being afraid and no military veteran wants to be viewed as weak or cowardly, so often PTSD is suppressed or worse ignored."
Kosi continues, "PTSD creates a kind of hyper sensitivity in the mind. Past events are experienced as flashbacks that are so real it is experienced as if it is happening right now. But because of this hypersensitivity, the dramatic movements of mind caused by PTSD can actually be a gateway for realizing the Peace that is free of any phenomenal experience of mind. It is also important not to spiritualize or trivialize the trauma associated with PTSD and investigate various therapies that can help eleviate and in some cases completely eliminate PTSD symptoms."
Francine intimates, "No one should have to live with an Post Traumatic Stress Disorder nor even go through a horrific ordeal in their lives. It is a jolt to our physical senses and reality and a challenge to our everyday emotional, psychological and spiritual coping mechanisms. These random events can be a most hurtful awakening as it can sneak up in the most unexpected way and moment. As such, the PSTD first shockwaves is always the challenge of having to simultaneously deal with the shock, the sudden life altering change and the absence of coping mechanisms."
Kosi responds, "Yes, it is the shock of a traumatic event that can leave us feeling exposed and vulnerable. It can be experienced like a rip or tear between what we thought was going to happen and what actually has happened. It as you say "a jolt" to our system that sneaks up on us and strips away our natural coping mechanisms and the experience of the trauma is not only retained in our memory, but also in the physical body. When we are willing to openly, nakedly, examine the raw emotions of the trauma that cause PTSD, we have an opportunity to discover the peace that is untouched by any trauma."
Francine responds, "Our healthy compassion, patience, our kindness, our generosity, our genuineness, and a demonstration of hope are really the firsts that we can offer to help anyone suffering from PTSD in the initial stages of healing and recovery. PTSD is always going to be a heavy experience. There will always be some kind of process at each stages of recovery. As far as I am concerned, nothing in our usual way of doing things or existing can truly prepare us for any kind of trauma that "hits so close to home."
There are many therapies that can help remove this kind of trauma from the physical body and limbic brain. Cranial Sacral therapy is one of the most effective and it is highly recommended that anyone who is suffering with PTSD seek professional help. The symptoms of PTSD can be cause extreme suffering and all too often people who suffer from PTSD will commit suicide in an attempt to rid themselves of this pain.
During their online radio program this Saturday at 6PM, both Kosi and Francine will give their perspectives on how to deal with the deep suffering associated with PTSD. Many veterans are at risk of suicide due to PTSD. CNN posted this suicide hotline for vetrans 800-273-8255. Please call this number if you or someone you know is at risk of suicide or are experiencing PTSD symptoms.