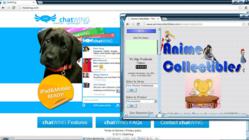 Houston, TX (PRWEB) March 25, 2013
Realizing the potential of the Anime niche, the Chatwing Team launched a new chat box with high connectivity rate. Registered Anime users of the chat box can share important knowledge about famous Anime series, characters, e-cards, and even Manga. Aside from that, the chat tool can be used by Anime collectible makers who want to market their works to large groups of people.
Anime fans can benefit from the thousand-user capacity of the Chatwing chatbox. In one session, a user can have discussions with thousands of other users. This simply means that discussions can last for a whole day, offering high spikes of traffic rate to any website or blog. Visitors can also check out Chatwing's perpetual message history—there is no missed information with the chat tool.
Anime collectible makers, who are also maintaining blogs, can install the Chatwing chatbox in just seconds. The installation time, however, depends on the user's customization preferences. In the dashboard, the user can set up color schemes, login methods, visitor idle time, and other parameters. With this accessibility, the chat app will become useful to thousands of web users. There is also a social media integration setup, allowing the Anime collectible makers to reach several communities. Now, they can share their works and have efficient marketing campaigns.
Chatwing's website chat tool has been used in different niches already. The developers are expecting that more web users will try to use the chat tool in months. In weeks, Chatwing will launch a strategy plan that will reach more bloggers and website owners.
About Chatwing.com
Chatwing.com specializes in the new field of website chat. Over years, the Chatwing team has introduced live chat widget for hundreds and thousands of blogs. The Chatwing application bridges people from many parts of the world, creating global synergy through the Internet. The shout box can be installed in just seconds, and it can be used for varying purposes such as leisure and Internet marketing. It also allows a user to customize the size, color, and name of the widget. Chatwing is 100% free for everyone.