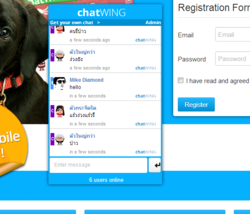 Boston, MA (PRWEB) March 27, 2013
Chatwing.com is now willing to help entrepreneurs make an online presence by launching a chat box capable of boosting soft marketing campaigns. Chatwing's newest chat tool is loaded with helpful communication features, along with modification schemes that will let users tweak their chatting experience. Aside from that, the Chatwing tool allows social media login methods so users can reach many communities within little time.
Soft marketing campaigns can build up a steady client base, especially if this is done correctly. The Chatwing chatbox helps users achieve this goal by optimizing the way people experience website communication. Registered Chatwing users can now get results in real-time, and they can also make friends along the way. Based on the simulation done by Chatwing.com, the chatbox ensures up to 80% traffic rate increase for any website. The rate is affected by web content, user interaction process, website appearance, and the popularity of the niche.
Chatwing's social media setup can also reach hundreds of clients for the traditional online marketer. Visitors of the chatroom can log in with their Facebook accounts, and the website owner can send out invitations. These invitations are crucial because they open the doors for greater marketing purposes. Twitter login method is also allowed to help online marketers create presence in the microblogging community.
By improving the premise of website chat, the Chatwing Development Team is helping thousands of web users worldwide. To remain committed to this goal, Chatwing's developers will roll out new strategies to help more users gain the proper communication experience that they need.
About Chatwing.com
Chatwing.com specializes in the new field of website chat. Over years, the Chatwing team has introduced live chat widget for hundreds and thousands of blogs. The Chatwing application bridges people from many parts of the world, creating global synergy through the Internet. The shout box can be installed in just seconds, and it can be used for varying purposes such as leisure and Internet marketing. It also allows a user to customize the size, color, and name of the widget. Chatwing is 100% free for everyone.