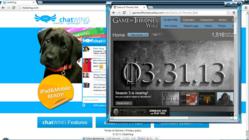 New York, NY (PRWEB) March 28, 2013
After the launch of Game of Thrones Season 3 Chaos preview, fans have become more excited over the release of the series in the 31st of March. Chatwing.com and its developers have started bringing up discussions about Game of Thrones in their chat widget. Registered Chatwing users, who were also fans of the series, started putting up Game of Thrones images in their chatrooms, enticing other visitors to share their thoughts.
Chatwing's developers have also noted that the discussions in the chatbox are becoming more focused on the famous characters of the series, like Tyrion Lannister and Daenerys Targaryen. Fans who have created blogs dedicated for the series can rely on Chatwing chat tool's communication factor. Once installed to a website, the chat tool can generate streams of traffic within few days or weeks. This traffic can extend to social media communities because visitors can log in with Facebook, Twitter, Google, and Yahoo accounts.
MP3 link upload is also allowed in the Chatwing chat box. Now, users can upload links of the famous Game of Thrones series intro. This can set up the mood in any chatroom, enticing hundreds of visitors and fans worldwide. Website owners can also upload their customized background images for greater immersion.
Chatwing's website chat tool can also be used in role-playing blogs that operates in Westeros, the fictional setting for Game of Thrones. In this way, role-play results will appear swiftly and users don't need to wait at all.
About Chatwing.com
Chatwing.com specializes in the new field of website chat. Over years, the Chatwing team has introduced live chat widget for hundreds and thousands of blogs. The Chatwing application bridges people from many parts of the world, creating global synergy through the Internet. The shout box can be installed in just seconds, and it can be used for varying purposes such as leisure and Internet marketing. It also allows a user to customize the size, color, and name of the widget. Chatwing is 100% free for everyone.