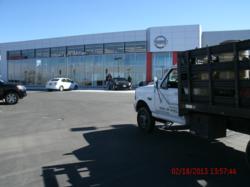 We jump through hoops to make sure our clients have clean cars on their lots
(PRWEB) March 04, 2013
The new dealership at 1320 Plum Valley Lane in Highlands Ranch replaces their previous location at 5001 South Broadway in Englewood. Wash On Wheels did a great job washing their cars on South Broadway and the new dealership wanted to keep the same level of service at their new location.
Wash On Wheels adjusted the routes on their 6 trucks to make sure they could take care of Larry Miller's needs. They wash close to 30,000 cars per month for Denver auto dealers.
Scheduling a car washing service for that many cars can be challenging in the winter. Days are short and the cars are often dirtier due to frequent snowstorms. But Wash On Wheels does an outstanding job of taking care of their clients, including washing on Saturdays and Sundays when necessary.
"We jump through hoops to make sure our clients have clean cars on their lots," said Joel Shorey, President of Wash On Wheels. "Our crews know they have to be flexible in the winter weather."
With 27 years experience in Denver, Wash On Wheels knows how to deal with Colorado's winter conditions. They specialize in EPA water recovery and include it with their pressure washing service at no extra charge.
Wash On Wheels is Colorado's largest mobile pressure washing company. In business since 1985, they have an A+ rating with the Denver/Boulder BBB. The company's services include pressure washing commercial buildings, sidewalks, parking garages, restaurants, and graffiti removal. Their services also include car washing for auto dealers, fleet truck washing, boat cleaning and interior and exterior detailing. They specialize in emergency grease and oil spill cleanups. Wash On Wheels services the Denver metro area and Front Range Colorado. For more information, contact Joel Shorey at 303-937-7181 or visit http://www.washonwheels.net.