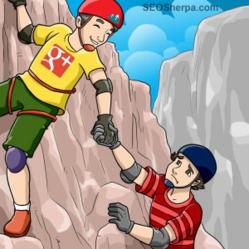 Information tied to verified online profiles will be ranked higher than content without such verification.
Dubai, United Arab Emirates (PRWEB) March 02, 2013
Eric Schmidt, Chairman of Google and author of a soon-to-be released book, "The Digital Age", divulged top Google innovations currently being implemented to make user experience better and more satisfactory.
Schmidt focused on recent developments regarding Google and its new incarnation, Google Plus Profiles. In addition to this, he has a book coming out this April and spoke about a variety of topics related mainly on Google and its implication to online marketing.
In relation to this announcement, James Reynolds, CEO and Founder of SEO Sherpa, a Dubai SEO Company, imparted Google's new approaches to a more accurate search and regarded them as "must haves" for any websites.
According to a news received by Reynolds from Schmidt, Google search engine innovations were ground-breaking and were already being experienced on the internet. These were new technologies aimed to provide better online visibility and website traffic in order to generate more sales. The following are enumerated below:

Tying verified online profiles to yield higher search engine rank results – having one's identity made public would provide instant placement at the top of the search list. "Information tied to verified online profiles will be ranked higher than content without such verification," Schmidt commented.
Indexing and image SEO – having indexed images within the search engine enables faster and more accurate profiling. Any website will have an image linked to its account with Google Plus using its authorship program. This would mean higher search optimized results. "Verify it as a Rel Author and then make sure that content is linked to your profile," Reynolds commented. "Your results will appear higher."
Image SEO (search engine optimization), on the other hand, would enable any visitor to view images within the same panel without leaving the current page. "Make sure that all your images are set up to help Google index them," Reynolds emphasized. "Label your file name with a description that describes the image and you make sure that it's got a unique title and alt description," he added.
Shifting from data search to knowledge search – this probably would be the best innovation that Google introduced to its online search. Users now have a search engine that did not only impart relevant search results data but distributed relevant knowledge to enhance their Google experience.
Controlling offline content to protect reputation of websites and of its owners – creating quality content would make online protection easier to manage. Malicious content writers would find it difficult to do this since the user would have complete control over the content the website has.
In other topics, Reynolds expressed dismay on some websites that appeared to have overstuffed their sites with too much Meta keywords. In a nutshell, Reynolds advised that Meta keywords were more effective in garnering higher page rankings if they were used sparingly and with relevancy to the product or service being marketed over the internet.
"You should limit the use of meta keywords to about 5 or 6 per page and they should be descriptive of the content that's on that page," Reynolds stressed. "Make sure they are relevant and help Google again determine what it is about by using the keywords that are relevant on the page," he concluded.
It is without any doubt that Google came a long way in securing its place as the most favored search engine provider. With Google Plus continuously complementing its current stable of programs and developing new technologies that enhance user experience, the future holds a very promising outlook for website owners since these would translate to better rankings and higher traffic volume.
About James Reynolds
James Reynolds is the founder of Search Engine Optimisation agency, SEO Sherpa, a Dubai SEO Company and Google Adwords Pay-Per-Click management company, Click Jam. He is an expert in helping entrepreneurs drive sales and increase the overall responsiveness and profitability of their online marketing. James has earned great respect in the field and is an experienced internet marketing speaker appearing at events worldwide and often in the media in Dubai, where he resides.
###