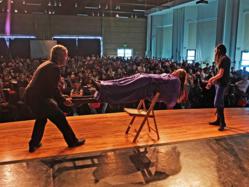 Steffan says "During the Golden Rule Show I cause a student to balance horizontally in mid air, as if suspended, while explaining, we have to find a balance point between the opposing forces that lead to violence."
Salt Lake City, UT (PRWEB) March 01, 2013
Steffan Soule is a professional magician who is vitally concerned about the environment, water conservation, bullying in the schools (including via cyberspace), along with many other critical issues that confront us.
Along with talents for entertainment, Steffan carefully crafts performances to address such issues. Each piece of magic illustrates an important point or serves as an allegory for his message.
Recently, Steffan was commissioned by the Golden Rule Project and the Utah Arts Council to address bullying and the application of the Golden Rule as part of the solution to the growing problem of bullying and violence in schools nationwide.
"Attention, Magic and the Golden Rule," was thus created as a performance targeted at the junior high and high school level. Steffan debuted this new work for three schools and for the Crime Prevention Conference in January and February, 2013. The pilot program allowed the Golden Rule Project the opportunity to fine tune this important message and to gauge the students' reactions to the various components of this new magic show.
The three junior high schools in Salt Lake City consisted of Granite Park Jr. High, West Lake Jr. High, and Eisenhower Jr. High. Their reactions were better than expected. Each school had about 1000 students in attendance, and the students paid attention to the magic and the message during the entire 50 minute presentation. The students cheered at the astonishing magic effects, but then they became silent when Steffan's message took the focus. They really listened which is rare for this age group. As any performing artist knows, when a performer can hold the attention of junior and high school kids, they have arrived. In general, no audience is more challenging for a performer of any discipline.
In addition, Three Gun Rose Production, a film production company was contracted to document the entire process from conception, execution and refinement, to audience feedback and response. This film will be used to promote the Golden Rule Project and the performance for subsequent schools.
Schools or other organizations interested in hosting Steffan's performance anywhere in the USA may contact the Golden Rule Project at 801-433-6275 or at stephen(at)goldenruleproject(dot)org. For Utah schools, a link to the Utah Arts Council will be provided to assist the grant application process, and for other States, suggested counterparts.
Steffan has created numerous magic shows with important messages like "bullying," "teamwork," and even "water conservation." Every show follows one simple formula. The magic effect visually demonstrates the principle that is being explained. For example, Steffan says "During the Golden Rule Show I cause a student to balance horizontally in mid air, as if suspended, while explaining, we have to find a balance point between the opposing forces that lead to violence." In this same show, about the Golden Rule, Steffan causes a black and a white streamer to transform into a golden flag with over 1000 formulations of the Golden Rule printed on the flag. Soule explains that, "The Golden Rule is not black and white. One has to practice it and learn how to apply it to many situations. To help, we have discovered over 1000 ways this rule has been formulated throughout religions, cultures and philosophies worldwide."
Presentations for schools is one aspect of Steffan's role as a professional magician. Steffan also performs for major company functions and even for educational festivals. In March and April, 2013, Steffan will be performing at multiple Water Festivals in his show "The Magic of Our Water" in which he demonstrates how precious and important water is for all life on planet Earth. This presentation has become the main attraction at the "Kitsap Water Fest" which has invited Steffan back for 11 consecutive years.
One common theme that Steffan weaves into all of his magical presentations has to do with sustainability. Water must be conserved and preserved for instance. The Golden Rule must be mastered if we are to preserve and therefore sustain life on Earth. In April, Steffan Soule will be presenting his show on Process Improvement for a whole systems conference on the enneagram. Steffan feels that efficiency is one of the most important issues of our time. People need to master the art of effective, efficient processes, if we are to develop sustainable systems for our future. Soule demonstrates this concept from the perspective of the art of magic. One can not be a magician without learning how to streamline a process until it appears to be magic.
(Photos by Stephen Seko)