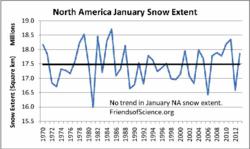 Calgary, Alberta, Canada (PRWEB) March 05, 2013
As the Midwest and Atlantic coast, Oklahoma, Texas and Europe dig out from the worst snowfalls in decades, people are wondering what's up with global warming?
Friends of Science, the critical climate science review group, point to historical patterns of the changing solar magnetic flux as a predictor of cooling, but governments are still relying on faulty computer models of the UN Climate Change Panel that claim carbon dioxide (CO2) drives climate change and global warming.
The UN Climate Panel, or Intergovernmental Panel on Climate Change (IPCC) has been warning people for years that a rise in CO2 will cause global warming which will then mean reduced snowfall. The IPCC's third assessment report stated, "Milder winter temperatures will decrease heavy snowstorms …" [2001 15.2.4.1.2.4]
A major winter snowstorm in the USA has set 1027 new snowfall records in a week. Almost 50% of the contiguous USA is covered in snow.
"Faced with the embarrassment that the snowfall predictions were all wrong, advocates who claim increased CO2 from fossil fuel use will cause global warming are desperate to keep the global warming hype alive," says Ken Gregory, a director of Friends of Science. "After all, it has become a multibillion dollar 'low-carbon' industry. So, global warming activists now say warmer weather causes more snowfall! Their predictions change with every weather event - one day warming causes more snow and the next day it causes less snow."
Friends of Science take the position that the sun is the main driver of climate change, not CO2. They state that there has been no global warming in over a decade, and the trend is toward cooling.
"In fact, cooling conditions tend toward more extreme weather events," says Gregory. Like his colleagues, he has spent a lifetime in work related to climate and geoscientific fields. Now retired, he continues the scientific review of data related to climate science.
"So, can warming cause more snow?" asks Gregory, rhetorically. "Just look at the snow extent data versus temperature graph."
The areas of North America covered in snow in January of the years 1979 to 2012 are plotted against the land surface temperatures in January of the area of the USA that corresponds to the range of the snow extent limit.
"The graph shows that warmer temperatures result in less snow, which agrees with common sense," says Gregory
There has been no global warming for 15 years, but recent IPCC computer models ignore this and continue to project a 0.2 Celsius/decade temperature rise from the 1998 temperatures. Global temperatures have been falling since 2001 at 0.1 Celsius/decade according to the UK Met Office Hadley and Climate Research Unit global temperature index.
"Climate modeling fails miserably in simulating the known past climate patterns, so there is no reason to believe the climate models can accurately forecast future temperatures," says Gregory. "Yet governments are basing multibillion dollar climate change policies on this faulty information."
A graph of North America January snow extent shows significant yearly variation, but the linear trend indicated by the thick black line shows no trend. Global warming appears to have little effect on snow extent, contrary to the predictions.
During the time from about 1350-1850 a "Little Ice Age" was experienced and is best documented in Europe. This coincided with a period of very low sunspot activity, frigid temperatures and crop failures. NASA reports that such solar patterns are repeating themselves. Most solar scientists predict continued global cooling, not warming.
"The IPCC has never included a serious assessment of the solar influences on earth's climate. They discounted the sun's influence and focused on carbon dioxide. Carbon dioxide levels have risen while temperatures are falling." says Ken Gregory.
In Europe and the UK, middle class citizens are having to chose to 'heat or eat' - thanks to an extreme rise in energy prices, a direct result of the "European Climate Policy Fiasco." This is the topic of the Friends of Science 10th Annual Luncheon in May where Dr. Benny Peiser of the Global Warming Policy Foundation will address this subject.
About Friends of Science
Friends of Science have spent a decade reviewing a broad spectrum of literature on climate change and have concluded the sun is the main driver of climate change, not carbon dioxide (CO2). The core group of the Friends of Science is made up of retired earth and atmospheric scientists.
Contact:
Friends of Science
P.O.Box 23167, Connaught P.O.
Calgary, Alberta
Canada T2S 3B1
Toll-free Telephone: 1-888-789-9597
friendsofscience.org
E-mail: contact@friendsofscience.org