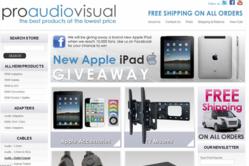 HDMI Cables can be purchased for as low as $5.95 including free delivery online
Perth, WA (PRWEB) March 07, 2013
ProAudioVisual is one of Australia's leading online retailers of HDMI cables and home theatre devices and accessories. Many traditional retailers are trying to sell unsuspecting shoppers a HDMI cable for over $200. This is extremely overpriced and the main reason they are doing this is to make up for the small margins they are making on LCD televisions which are now very competitively priced.
ProAudioVisual provides online shoppers with the opportunity to save a lot of money on home theatre and audio visual accessories. ProAudioVisual offers a 60 day money back guarantee on all products as well as a lifetime warranty on all cables.
Although the price of HDMI cables from ProAudioVisual may seem low, you can be assured that all of the products offered are of the highest quality. A HDMI cable purchased from ProAudioVisual for $5.95 will give the exact same picture and sound quality as one bought from a major retailer for $200. ProAudioVisual is able to offer these cables for such a low price because they import all products direct from the manufacturer and sell them direct to the end user.
In addition to low prices, ProAudioVisual prides itself on maintaining the highest level of customer service. ProAudioVisual has an expert team of home theatre and audio visual enthusiasts who are ready to offer you support via free call, live chat or email.
The ProAudioVisual website also allows customers to leave feedback and comments on purchases they have made, so you can view a large number of customer testimonials before deciding to make a purchase. ProAudioVisual is constantly praised for high quality products, low prices and fast shipping times, as well as a knowledgeable support staff who are always happy to help with general questions as well as technical support matters.
ProAudioVisual only stock the latest HDMI cables available on the market. Currently they are known as "High Speed HDMI with Ethernet" cables, also commonly known as HDMI 1.4 or HDMI 1.4a cables. These HDMI cables can be used with all HDMI enabled televisions and devises including but not limited to PlayStation 3, Xbox 360, BluRay players, media players and much more. HDMI 1.4 Cables
ABOUT PROAUDIOVISUAL
ProAudioVisual is one of Australia's leading retailers of audio visual equipment and accessories. Based in Perth, they offer free shipping to anywhere in Australia and also have an express service if you need your order fast. ProAudioVisual only stock the highest quality products and import everything direct from the manufacturer, cutting out the need for wholesalers and passing the savings on the customer. For more information visit http://www.proaudiovisual.com.au