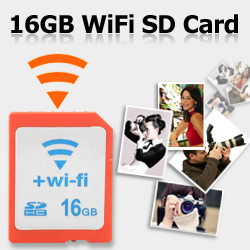 Imagine taking pictures at a birthday party with your compact camera and then sharing them with your family as soon as you've taken them
Shenzhen, Guangdong (PRWEB) March 02, 2013
Instant sharing of photos and videos wirelessly is now possible with any device thanks to WiFI SD cards, according to wholesale electronics supplier Chinavasion.
Chinavasion has launched a revolutionary range of WiFi SD cards that allow any device, including MP3s and cameras, share pictures with phones, tablets and computers, regardless whether the devices themselves have wireless connectivity or not.
"The secret behind the WiFi SD Cards is a WiFi aerial built into the cards," says Rose Li, PR Manager for the electronics gadget company, which is only possible now that smaller electronic components are available.
"Electronic components are smaller than ever now," says Li. Up to five laptops, smartphones and/or tablets being able to connect to the SD card at one time. As a result, WiFi SD cards have become suitable for any type of task that requires collaboration or sharing, says Li.
"Imagine taking pictures at a birthday party with your compact camera and then sharing them with your family as soon as you've taken them," says Li. "That is now possible, no matter how old your camera. If it's got a SD card slot, it can share."
"And with 4GB, 8GB and 16GB cards available, there is a WiFi SD card for every type of photographer", says Li.
Li says, "the WiFi SD cards are just a taste of the cool tech now available thanks to smaller WiFi components."
"Products like these incredible WiFi SD cards are just a taste of the amazing nano-tech that Chinavasion and other electronics companies will be able to bring out in the near future."
Rose Li is the PR Manager of Chinavasion. Your source for the latest electronics gadgets online. visit them at http://www.chinavasion.com today.